Time and again we have seen it's not just the A-list poodles that get all the pampering. Showing that Paris Hilton is not the only one who can afford a mansion for her beloved pooch is Tammy Kassis who has built a beautiful Victorian doggy mansion for her three beloved pet dogs. The beautiful 11-foot mansion situated in the backyard of Ms. Kassis' LA home ensures her darling pets, Chelsea, Darla, and Coco Puff, live in the lap of luxury. The luxury abode for her doggies features vaulted ceilings, hardwood floors, heating, air conditioning, hand-made curtains, and exquisite wallpaper. Each dog has his/her own bed to cuddle up in, and they can also laze in the sun in the mansion's very own lawn surrounded by a white picket fence. Tammy, along with her husband Sam, decided to provide the dogs (two Yorkies Chelsea and Coco Puff and a Pomeranian Darla), their very own home when Coco Puff was almost carried away by an owl.

Builder of deluxe kennels, Alan Mowrer's of La Petite Maison was given the job of creating a luxury haven for the pet dogs. For a sum of $20,000, Mowrer created the plush Victorian doggy abode complete with paintings, landscaping, screened doors, mini blinds, et al.. Still, Ms. Kassis is definitely not satisfied and plans to pamper her pooches even more. The lady now plans to have a tiny Plasma screen TV installed in the pet's mansion. Says she: "They love to watch Animal Planet."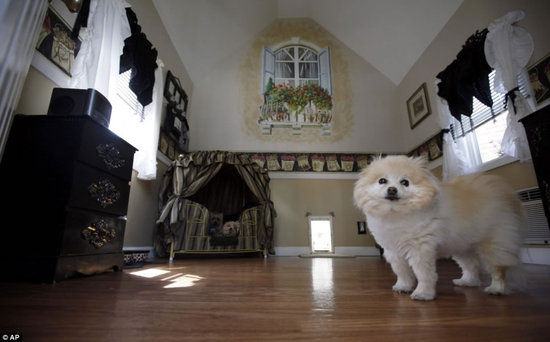 The sign on the porch of the lavish doggy mansion reads, "Three spoiled dogs live here". No arguments there.