For all those who believe in treating their pooches equally, here is some great news. Now you can dress your buddy in the same designer label that you dress in. And the famous designer to have created this amazing collection is none other than Mr. Roberto Cavalli who has created an exquisite and simply adorable line of clothes for your beloved pets. While the line is made for small to medium pups, custom pieces can be made for larger dogs upon request. The simply superb line includes jersey's or printed fleece t-shirts, velour tracksuits, or classic pieces like polo shirts, sweaters, and puffer jackets. That is not all. You can also go the extra mile and indulge your pet with a satin-trimmed bathrobe, silk printed shorts, or a shearling jacket.

All feature an animal print motif with a jaguar print made of small paws to collect a distinctive style and image. I bet you guys can't wait to get your paws (err hands) on this collection. But the good news isn't over yet. The collection also offers matching accessories for you to match your luxurious pooch's style. So pick your favorite between the dog carrier bag and patent leather passport wallet and flaunt your style as you stroll with down the streets with your fashionista buddy in tow.
Hit your nearest Cavalli store by the end of this month to adorn your pooch with this extremely amazing collection. A big 'bow' to Mr. Cavalli for creating this ingenious collection.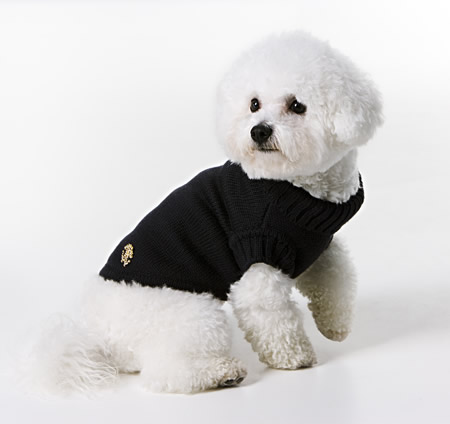 [Stylelist]