The name beckons in neon, almost illegible yet oh-so-stylish; you wouldn't care what it read. It's done its work. You want in. I speak here, of her highness of offices, the newly set up Moda Operandi office. The Daniel Romualdez design of the Manhattan office has a modus operandi that's simple-spirited style. The headquarters of the luxury fashion site pioneers present-day posh with the pomp of the mid-centuries.



The reception area welcomes you with John Robshaw pillows, specked vintage seating, and a Moroccan-style rug by Pottery Barn. And while these might make you want to snuggle cozily for all of eternity, there's more in store inside for the eye that seeks sixties glamour mixed with contemporary style.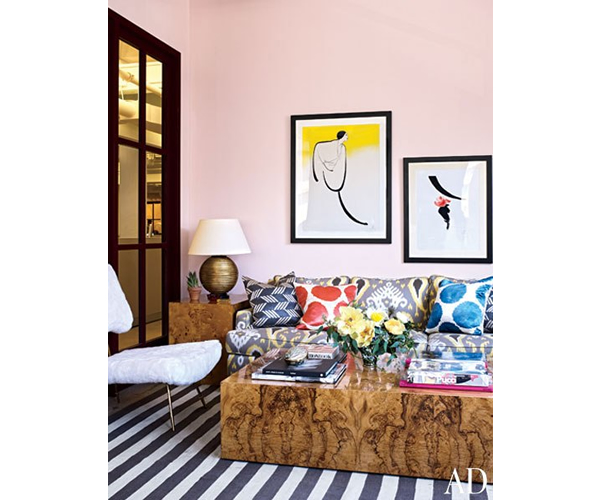 More John Robshaw pillows adorn the Jonathan Adler shearling-covered chair in the lounge, making a clash-of-the-prints with the rug that sits stylishly minding its own pinstriped business. While this attitude might render it a casual-chic air, you want to be donning just as much fashion if this is your choice of chill spot.

The adjoining conference room basks in loads of natural light, courtesy window-lined walls, and subtle hues owing to the minimalism-heavy furniture. The RH chairs and classic prints from the Condé Nast Archive combine their charms for a barely-there look leaving ample room for the fictitious brainstorming fashionistas I imagine traipsing the superspace.

A peek into the personal office of the founder, Lauren Santo Domingo's reveals a reminiscence of the design dichotomy stringing along from room to room and bringing alive the entire office. A circa-1960 Henredon waterfall console nestles on a graphic pink-and-purple carpet, enhancing the innovative authority of the distinguished office owner.

While there isn't a lot not to love, this will steal your luxe loving hearts away. The office comes equipped with its very own private fitting room suite. Designated to special alterations, the dressing room features French salon-style trompe l'oeil paneling and tassel tiebacks. So, in addition to shopping on the company's site, customers can visit the chic downtown Manhattan offices and seek a stylist to be privy to exclusive treatment and especial tailoring.

Like the website, the office pays homage to the tradition wherein women went to fashion shows and dropped by the designers' salons afterward to pick out their clothes as opposed to a dreadful department store. Quips Santo Domingo, "the idea of a trunk show isn't new—all we really did was put it online."
[Via – Architectural-Digest]