The thing about buffets is that I rarely know where to start – the lavish spread of appetisers, soups, the mains, grills and desserts at different stations can be quite overwhelming to the undiscerning digestive system. Thankfully, as I settled into my beautiful villa at the Anantara Sir Baniya Yas Island Al Sahel Villa Resort, I knew exactly what I was going to have for dinner that night. It being a Thursday night, the resort had planned Boma BBQ, an African themed night where I would dig into diverse cuisines from the length and breadth of Africa and also sample 'exotic' meats.

A golf buggy collected me from my villa to the reception – a necessary precaution as I could easily get lost walking from my villa to the reception or end up in another part of the resort completely (yes, this is not your ordinary hotel resort layout). I passed by the resort's only Savannah Grill and Lounge (where I'd have breakfast the next day) to gain access to the cobbled path that would lead me to Boma BBQ. The sun had already made its descent as I drew close to what looked like a 'settlement' kind of fortress from a distance. By now, I'd become accustomed to peacocks and gazelles passing me by – the thrill of staying in a luxury resort right in the middle of an Arabian wildlife park is beyond words. The thought of being surrounded by nature in a way that I'd never experienced in my life while enjoying a lavish gastronomic feast in addition to great company and conversation for the evening, was like a piece of luxury handed to me in a gilded gift box.
The settlement arena or 'Boma' in Swahili literally means 'fortified enclosure' (not to be confused with the port town on the Congo River). The structure was made of wooden panels which gave the Boma BBQ arena a nice sense of closure so that guests could dine under the night sky and in the peace of the nature. No city buzz, no mobile phones, no hustle bustle. It was quiet, save for the peacocks calling out to potential mates.


I love what Anantara Sir Baniya Yas Island Al Sahel Villa Resort have created right here in the United Arab Emirates – a sense of being transported to the savannah and grasslands of Africa. The entrance to Boma BBQ had two light installations designed to look like antelope heads. Entering the arena, I felt a sense of contentment descend on me as I was greeted by warm staff, sandy grey rock installations, chocolate coloured rattan chairs clustered in fours around tables, red lanterns sitting pretty on the tables and a cosy terrace that overlooked the greenery. At the centre of the arena was an open fire spitting out embers and blowing threads of smoke that were carried by the gentle breeze. From time to time, attentive staff stoked the fires, bringing to life the typical open gatherings in African villages that my mind had always imagined – people huddling around the fire, grandmothers sharing stories, wise men telling tales of their ancestors, all in the safety of their 'boma' under ancient star lit sky – the same sky that I was dining under tonight.

Starters
I usually make the mistake of filling myself with a variety of starters that there's never any place for main courses; forget the desserts. However, that night, I was curious to find out what the starters section had to offer. There was a plethora of seafood and fish based appetisers from oysters to crab cakes and a spicy prawn and chili salad. Healthy conscious guests stuck with quinoa salads, beetroot salads and a colourful array of raw vegetables and leaves. Closeby, two types of soups were bubbling away in heavy, iron cast black pots – cow pea soup and seafood chowder. Flaming hot coals were used instead of the usual gas lighters that I'm so accustomed to see at buffets.
BBQ
After helping myself to a portion of lettuce, shredded carrots and cucumbers, and some potato salad, I headed to the BBQ station. I had skipped the soups completely. The raw meats were already laid on the iron pots, many of them skewered. Diverse meats awaited my attention: lamb chops, giant prawns, chicken, venison, ostrich, sausages (boerewors). I asked the chef to grill for me some of the meats and they brought a plate of it to my table. A variety of accompaniment sauces were also available – garlic sauce, spicy Chakalaka sauce as well as African onion and tomato sauce. The Chakalaka sauce is very much like a tomato based sauce. I found it to be quite fiery though it went well with the meat. Skip this sauce if you don't want a fire in your belly.
Here's what I thought of the grilled meats:
– Boerewors : This is a sausage made from minced beef with some amount of spices – a favourite in South Africa and Zimbabwe. This was a winner for me, the smokiness of the grill brought out the flavours of the meat .
– Ostrich meat : I found the meat a bit too tough for my liking. However, I learnt that ostrich meat is recommended for health purposes as its lean. So, it is possible that I might like ostrich meat better if it was made in a form of stew, similar to the braised oxtail stew that was simmering at the main course station.
– Lamb chops : No complaints here. I'm always happy with lamb chops.
– Kudu (or venison) : Typical African herbs and spices along with a dash of salt and pepper were rubbed into the deer meat. Tasty. Add sweet corn on the cob and this was sublime.
– Giant prawns : I love succulent prawns that are grilled well. However, I didn't expect that the prawns would be marinated in a sauce that probably had the hot chilies called peri peri. It's almost as if the grilled process brought out the fire of the chilies.
– Salt crusted beef striploin : Chef Thomas Gamin urged me to try the marinated beef striploin but I wasn't too keen on it initially simply because I do not like meat prepared rare. What I was to discover was marvellous melt-in-the-mouth experience. It was as if the intense salty crust formed a protective coat to the meat so that it left the meat juicy.
Towards the end of my dinner, Chef Thomas brought out the African spit-roasted lamb and little jacket potatoes baked with garlic in the centre. The potatoes were like a side dish. Garlic cloves were roasted before they were placed into the potatoes before they were baked in foils and covered with herbs. These went well with the tender flesh from the spit-roasted lamb, but I liked the crackled skin the most.
Towards the end of my dinner, Chef Thomas brought out the African spit-roasted lamb and little jacket potatoes baked with garlic in the centre. The potatoes were like a side dish. Garlic cloves were roasted before they were placed into the potatoes before they were baked in foils and covered with herbs. These went well with the tender flesh from the spit-roasted lamb, but I liked the crackled skin the most.
Main Course
By now, as you can imagine, I had already consumed enough meat, that I barely had any room for stews, rice dishes and curries except for a little mieliepap –maize cooked to a consistency of a dry porridge – it felt like polenta or semolina submerged in water till the granules swelled up. It is however worthwhile to give an overview of the various mains that were served in bigger cast iron black pots as they summarised the diversity of the dishes, meats, vegetables and recipes that are used in different parts of Africa. Kenyan jollof rice, Zimbabwean braised oxtail stew, goat and okra stew, antelope curry, Zimbabwean peanut butter guinea fowl, kudu (venison) meat balls, Kenyan style broccoli and spinach.
Drinks
I was also very curious to know what African mocktail would work well when having meats, barring red wine. Initially, I'd tried a very light version of virgin pina colada which worked well – it wasn't too creamy and I was about to try another one till the mocktail's creative genius, Mo'ad, convinced me to try something magical. He whipped up a mocktail which had an infusion of whole fruits and spices. He included a small slice of ginger in the drink to help in digestion. Apart from the strong lime taste with a subtle taste of ginger, there was a pop of fresh fruit flavours on my palate that was indescribable. The look of the drink in the glass jar was also appealing – a merry dance of slices of mandarin, pineapple, passion fruit slices and seeds.
Dessert
Dessert time! It was a while before I could try any dessert. The dessert station was colourful from a fresh fruit selection to marshmallows in chocolate pudding, berry cheese cakes and an African dessert called Malva pudding. It's a sugar based flour pudding with cream sauce and is served hot. However, I decided to try a light dessert which was a blend of passion fruit and a milk base. A nice way to end the meal.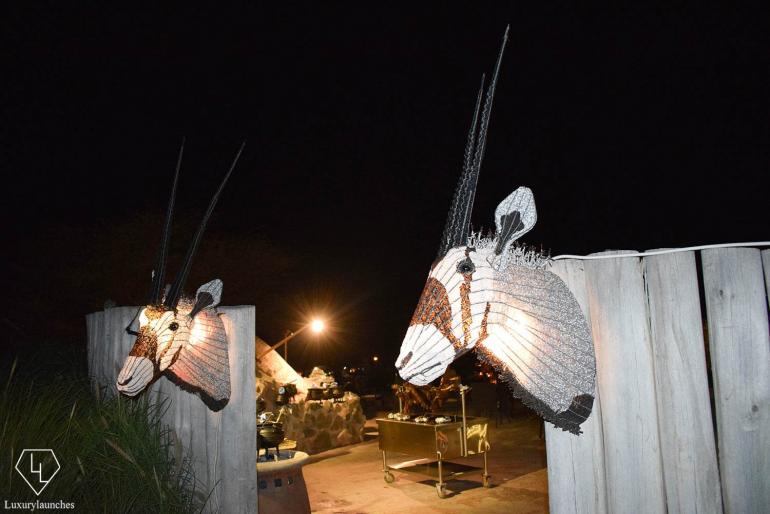 Where: Anantara Sir Bani Yas Island Resorts
12452, Al Ruwais – Abu Dhabi
United Arab Emirates
Phone: +971 2 656 1399
Note – The critic was invited by Anantara Sir Bani Yas Island Resorts. But all the opinions expressed herewith are her own.