When in Mumbai, if you want shopping, restaurant choices and nightlife along with your five star stay experience, The Palladium Hotel is your warranted uber luxury option. Also the city's tallest, at 40 levels. Located in the urbane epicenter of Mumbai, Lower Parel and built up on Palladium mall-High Street Phoenix, the city's premier luxury lifestyle destination, it may well have coined the term "location location location". For these reasons, it is coveted by international and domestic tourists alike. But it has also redefined the Asia popularized Mall-Hotel concept in Mumbai and maximized the city's gastronomical selections.

First Impressions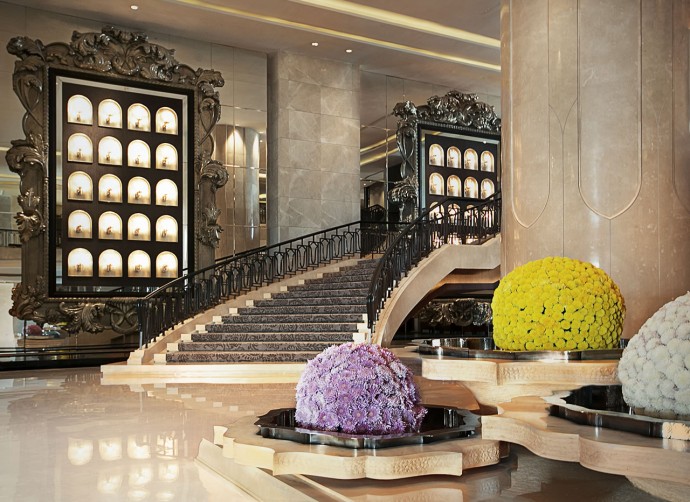 Our luxury experience began with the pick up car, a Mercedes S Class (INR – 5,500 – $90), which was Wi-Fi enabled. The chauffeur welcomed us with cold towels and presented a music menu, something quite unheard of and we chose the classics of Mozart and Beethoven for our journey. It aptly concluded as we met two cascading waterfalls, Indian cadbury marble walls and bamboo trees in the driveway.
It is designed to symbolize the paradise as described in James Hilton's book, Lost Horizon. Interestingly, it even beams with Sanskrit shlokas handpicked from the Vedas (ancient Indian scriptures) and carved onto brass metal hammered sheets. Arriving at the hotel, we were directly escorted to our room on the 23rd floor, for an in-room check-in.
Accommodation


Palladium Hotel has 335 rooms and 28 suites. Of these, our 45 sq. m. Deluxe Room (INR 11,000 – $185) faced the picturesque racecourse, India's famous mosque Haji Ali Dargah and the Arabian Sea. We were amazed by the view (pictured below) that can even be enjoyed at the touch of a button as the rooms have electronic drapes and curtains. Making the perfect accompaniment were complimentary fruits and flavored milk sweets.


A small tour revealed an eclectic mix of classic and modern décor. But what is truly ravishing is the bathroom, with the silver tinged mirror lending grandeur to the basin platform. This is further reinforced by Inara toiletries.
Dining


Starting from the hotel's 9th level lobby, culinary selections come combined with décor that is classy and contemporary. Being at the heart of a business hub, it is always busy and has the Piano Lounge, which serves high tea (stop by for mini desserts with scones and sauces, and the company of, besides your own group, a grand staircase). As an effort to live up to its name perhaps, the lounge also sees performances by an Italian pianist, Aki Spadaro, who plays in the evenings, 2-3 days a week.
We brunched at the award winning Seven Kitchens and would recommend their recently introduced summer specials, especially the veg Mango sushi that came as a part of a huge spread, with live music. Dinner was at the award winning restaurant Mekong (pictured above) and we'll soon be sharing more on that one.
Our in-room American breakfast, while nowhere close to Asian cuisine spanning three different regions, was fairly gratifying. Being vegetarians we replaced the omelets with Idli-Dosa (traditional south Indian breakfast staples), which were accompanied by a selection of breads, coffee and juice. And speaking of company, we hear the Hotel has a few more restaurant openings in the offing. Fans of sous vide cooking, artisanal cheeses and wine can look forward to Anais, Palladium's European cuisine haven in the making. LED or Love Eat Drink will offer a more relaxed Mediterranean dining journey, there'll be a Japanese restaurant, Yuuka and The Sahib Room and Kipling Bar for the Indian connoisseur.
Nightlife


If we're talking bars, how can nightlife be far behind! Or so is the case at Palladium Hotel. The megacity's tallest hotel also has the highest bar, Li Bai on level 37. Go here for breathtaking views of the Arabian Sea along with the rarest and finest collections of spirits and cigars from around the world. Right around the corner from here is EXO. The extremely popular two-floor bar and nightclub reflects the energy of Mumbai and showcases one of the city's most extensive whiskey selection. What it also does is feature Madoc's foot thumping mashups till 3 am. Houseguests have free entry at both places, which is great considering weekends have an INR 5,000 cover charge, with entry only through guest list.
Leisure


The Spa at Palladium specializes in natural health boosting botanical extracts and formulations. These find their way into authentic and holistic healing methods. I had opted for the aroma nodal deep tissue massage (INR 6,000 – $100). It began with a steam shower (the room had both and was attached to the treatment room). The therapist's application of aromatic rose oil and massage, with concentration on the collarbones, shoulders and lower back was rejuvenating and extremely relaxing.


Also immensely relaxing was the infinity pool with some great views of the city. The hotel also houses a Health Club with state-of-the-art cardiovascular, circuit training and free weight equipment.
Meetings


Being in the heart of Parel, the Hotel is big on meetings and events. Their MICE facilities reflect the same. Level 8 comprises of 4 banquet spaces, 4 Staterooms and 3 Boardrooms.


Level 9 houses a fully equipped Business Center and an expansive Ballroom and Bridal Suite with adjoining Terrace Gardens, making it equally suitable for weddings. The property also has the Zenith Party suite, on the 37th floor, which is the highest party venue in the city and can host a good 100 – 120 people making it perfect for private shows, such as exclusive unveilings, parties and most importantly bachelor and hen parties.
Address :
Palladium Hotel,
462, Senapati Bapat Marg,
Lower Parel,
Mumbai 400013, India,
Phone No : +91 22 6162 8000
[Palladium-Hotel]

The iconic Haji-Ali Dargah as seen from our room.

Spoilt for choice – Music menu on the Mercedes S-Class pick up.

We savored the delectable and unique Mango and Buffalo cheese at the Sunday Brunch at Seven Kitchens.