Shanaya means 'first ray of the sun'. So, that name for the spa shouldn't come as a surprise since it practically compliments its Kempinski Ambience Hotel setting. After all, there can be no greenery without the sun! So after checking into the very green property, my first footsteps were toward that first ray. I reached level four of the Club Tower and walked to the spa that conveniently sits between the two towers of the hotel for an experience of Shanaya, the spa's Abhayanga Massage.

A chat with the spa manager revealed that Abhayanga is one of the most popular massages at Shanaya. As it should be, given that it incorporates Ayurvedic healing philosophies along with strokes akin to those of the Swedish massage. Best of both worlds, am I right? Well I was, until I sipped the ice tea. When I was offered some, I thought 'ice' and I thought 'tea' which is different from your usual green tea welcome. What I didn't do was factor in 'saccharine sweet.' Another anomaly came in paisley.
Now this one's a warning to lust-ers of lush robes. When the gate behind the reception is pulled wide open to reveal a mystical-seeming, dim passage you begin to anticipate the discovery of a world of spa-lore. (Despite the ice tea, yes.) But perhaps a result of following format or simply an attempt at uniqueness, the robes at Shanaya are slight yet slinky, if that works. Plus, they grow on you (no pun intended) for their delicate pattern. What may not grow on you, however, is the steam room. The lights in there to be specific!
You know how they always say a pre-massage visit to the steam and sauna opens pores? Well, they do that here too. What they don't do is tell you the lights in the steam room change colors. Then again, one person's dizziness inducing can be another's trippy. What will get a unanimous nod though is Jincy. Jincy was my therapist from Kerala, commonly thought of as God's Own Country. And also the land that Ayurvedic-oils-laced dreams are made of! Now don't let her timidity fool you. It might add greater grace to the feet rinsing ritual at the beginning but it was also the cause of total shock once she began massaging.

It was almost like giving an Abhayanga massage was second nature to her. So shyness flew right out the window and in came confident long strokes. Now Abhayanga is a full body nurturing massage that uses traditional medicated Ayurvedic oils blended as per your body type. Think of it as a bespoke, fragrant amalgam designed to promote "recovery", "vitality" and "serenity" among other things. And with the therapy's routine of long flowing strokes and concentration on Marma Points or Ayurveda's believed energy pathways for healing, body, mind and soul, the oils help regulate the system besides balancing the doshas.
I know this might sound like gibberish at first but it means a whole lot of bone strengthening, skin smoothening and calming of nerves. The entire 60-minute treatment, if taken regularly can also lead to increased circulation, toning of the muscles and the whole physiology, lubrication of the joints and improved elimination of impurities from the body. Then there's also that thing about better, deeper sleep at night. Makes you want you get a year's worth of bookings! That's what I was thinking between Jincy's strong strokes.
Each time she was done massaging a certain area, she would gently run her fingertips over it, almost as if to give it closure. I thought of this as something unusual yet successful. Much like the overall therapy with south India's Ayurvedic oils. Which is why it was time to let them seep in some more. I was also told that aside from their exceptional oils, which also include Pevonia aroma oils for other international massages, the spa has a neat range of natural body scrubs and facials, which are made direct from their kitchen.
With those as well as oil blends customized according to each guest, Shanaya does take its therapies to another, tailor made level in each of its five treatment rooms. After my own solo experience, luckily in the massive couple's suite, I went to wash off the oils in the ladies' lounge but for those hoping for greater indulgence, the luxury spa is also equipped with a Hammam experience (Turkish Bath). And if you want to add nail and foot therapy to your luxury spa extravaganza, a modern salon, Hair by Dar is located right adjacent.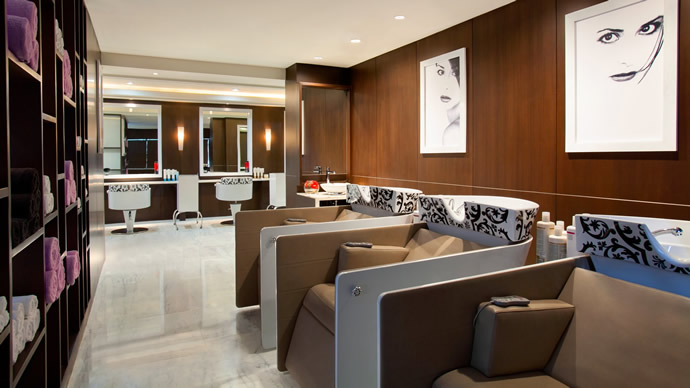 Abahyanga Massage
60 minutes | Rs. 3000 (taxes extra)
Shanaya spa – Kempinski Ambience Hotel,
Address :
Kempinski Ambience Hotel, Delhi,
Global hotel alliance Kempinski,
Ambience Hotel Delhi1,CBD,
Maharaja Surajmal Road,
Near Yamuna Sports Complex,110032
Delhi
Contact No : +91 11 4908 8888
[Kempinski-Ambience-Hotel]