Audi fans, hold your breath. A1 Quattro, a limited-edition version of Audi's subcompact hatch, outdoes it, predecessor. The high-performance A1 is equipped with the all-wheel-drive system, with the same 2.0-liter turbocharged and direct-injected four-cylinder used in theS3. Which for you works out to 252 horsepower at 6,000 rpm and 258 pound-feet of torque from 2,500 to 4,500 rpm – that is more than 70 hp and
74 lb-ft over the standard 1.4-liter A1. We're just trying to control our drool from not forming a puddle on the keyboard.

For the tracks, the A1 has center-locking 17-inch wheels modeled on the original 80s-era Quattro's style and a six-speed manual shuttles power to a Haldex AWD setup. Audi claims the hi-power A1 is neck-to-neck with the S3's 0-60 mph time of 5.7 seconds and top out at 152 mph. For grip and performance besides the 225/35 R18 rubber, the wheel wells are filled with a modified MacPherson strut suspension in front and a multi-link setup outback. The crazy electromechanical steering has also been tweaked to provide a 14.8:1 ratio to zoom past roads. Other interesting features are the modified ESP and a new electronically controlled differential lock to control any wheelspin. The hardware has been upgraded with larger discs at all four corners with black painted calipers for entertainment.
The design is a play with the previous Audi models and a tad bit of inspiration from the S and RS lines. The interiors have been given a makeover with the fine instrument panel, aluminum pedals, seriously bolstered buckets, and suave black leather with red contrast stitching. Rumored to go on sale in 2012 with only 333 units on offer, the A1 naturally calls out to us. But obviously, the U.S. is left in the lurch. Are you also feeling cheated by Audi? Maybe it is time we also got a slice of the pie.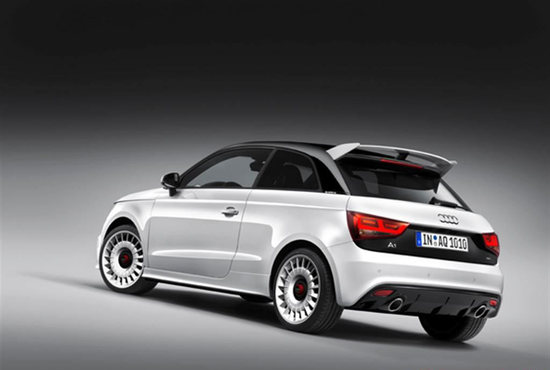 [Autoblog]