Audi is all set to debut their prototype Wörthersee e-bike next week at Wörthersee in Carinthia, Austria. Trial biker Julien Dupont will mark the event, and downhill specialist Petra Bernhard will demonstrate their stunts and street bike skills. Adding style to bikes, Audi hopes to convert quite a few of its four-wheel drive fans into considering a two-wheel eco-friendly drive, at least for shorter distances. The German automakers' high-performance electric bike features "the Audi core competences of design, ultra, e-tron and connect" stated Audi's Head of Design Wolfgang Egger.

Weighing 24 pounds, this lightweight bike boasts a compact carbon-fiber-reinforced polymer frame with a low center of gravity for agility. The 26" wheels also have the same carbon fiber make and feature an innovative "Audi ultra blade" design with broad flat spokes for an optimized transmission of pedal power. The cycle offers the cyclist five cycling modes that can be set using the touchscreen on the e-bike. If you select the Pure" mode, the drive power is purely the product of your legs. In contrast, in "Pedelec" mode, you are supported by the electric motor that helps you reach speeds of up to 50 mph possible and gives you a range of 31-44 miles. If you select "eGrip," then the bike runs solely on the electric motor and can reach a top speed of 31 mph.

For wheelies and other tricks and stunts, there is an electronic control system. You can set the modes directly or using your smartphone. The "Power Wheelie" mode with adjustable wheelie angle is ideal for less skilled bikers, while the "Balanced Wheelie" mode is designed for sporting challenges and skilled bikers. The electronic control system maintains the rider's balance when in Balanced Wheelie mode by compensating the biker's movements forwards or backward via the electric motor.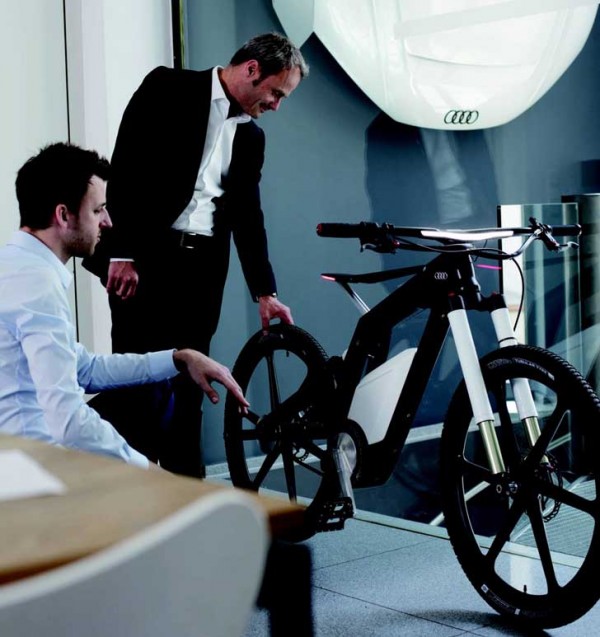 A sleek, powerful, and extremely stylish offering is a toy meant for luxury adventure seekers.
[Inhabitat]