At the Geneva Motor Show, get ready to check out the new Sport Utility Vehicle concept, EXP 9 F, from Bentley Motors. The new car with a fresh design is expected to start a new Bentley model-line like the Mulsanne, Continental GT, GTC, and Flying Spur. The masculine car sports a new design matrix grille, round lamps, and a strong power-line and haunch along each flank. The EXP 9 F is conceptualized as fun to drive to an opera gala performance on the dunes and speed at the autobahn.

Based on a turbine theme, the car sports 23-inch alloy wheels and fighter jet engine-inspired rear lights. On the inside, the cabin design comes fitted with touchscreens and tailored interface technologies and is done up using wood, leather, and polished metals such as aluminum, bronze, and gunmetal. The car comes with silk wool floormats which are reversible. The dashboard features a one-piece wood veneer configurable display with all the instruments neatly laid out.


As for the rear seat, users get legroom complete with a fold-down keyboard and full internet connectivity through an iPad or tablet in business mode. The seats also come with a powered footrest, drinks table, and an infotainment screen for movies. When not in use, they can be powered forward to make bigger loadspace for sports equipment or luggage. The 4+1 seating also sports a rear armrest that houses a cooled compartment for champagne and glasses. Also, the luggage space makes room for customized picnic hampers on rails for easy access.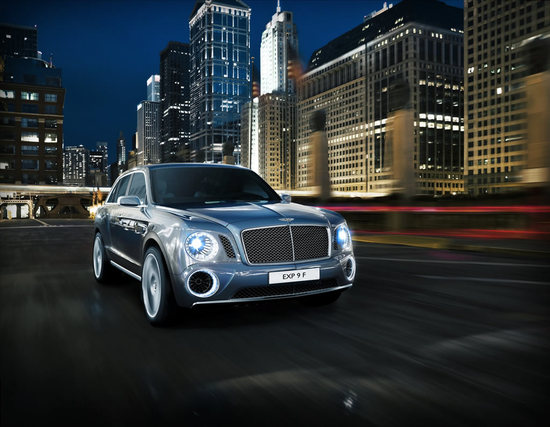 Update –
Take a look at more images and video of the Bentley EXP 9 F.