Another Bentley comes by, and what I really like about some of these latest releases is that the company realizes some of its cars can be remodeled a bit to suit audiences of different tastes too! This time around, Bentley announces a Supersports variant of the Continental Convertible just before its grand debut at the Geneva Motor Show. The Continental Supersports Convertible comes with a mighty 621 horsepower engine, compelling Bentley to call it "the fastest four-seat convertible in the world."

The Continental Supersports Convertible, a drop-top version of the standard Continental Supersports coupe, also features 591 lb-ft. Of torque twin-turbo W12, which has the capacity to run on E85 bioethanol. With the help of a ZF 6HP26 six-speed automatic transmission with Quickshift, your shift time is cut down considerably.
The sports car will have a 40/60 rear-biased all-wheel-drive system and can hit 60 mph in a mere 3.9 seconds; the Convertible can hit top speeds over 202 mph. Too, thanks to its carbon-ceramic brakes and a modified stability control system.
The convertible is a staggering 189.1-inches long and 86.4 inches wide and weighs around at 5,279 lbs. and Bentley claims to have cut the weight down by using lightweight carbon fiber sport seats and ultra-light 20-inch forged alloy wheels, which say the weight reduce by 198lbs., in comparison to a standard GTC.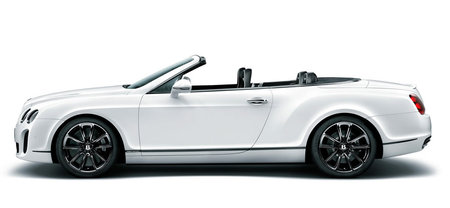 [LeftLanenews]