Would you like to travel on the most modern cruise and yet feel like you have traveled back in time? I know many of us would like to experience the golden days of striped blazers and boaters, lawn bowls and paddle tennis on deck, and of course, the occasional tea dance and jitterbug evenings. Well, look no further as Cunard's brand new Queen Elizabeth liner promises to satisfy your thirst for the good old days. The ocean liner will take you back 70 years when she makes her maiden voyage in October next year. The £365million ($513 million) ship will attempt to recall those halcyon days when the Queen Elizabeth liners first ruled the waves. Currently being built in Italy, this ship is set to become a flagship liner for Britain. Even though she succeeds the recently retired QE2 and is sister to Cunard's Queen Victoria and Queen Mary 2, she will not be called the QE 3. This is because the company wants to keep the nostalgia alive. Jump over to view more images……

A luxury liner will accommodate 2,092 guests and have a West End-style theatre with private boxes, a 4,000 sq ft shopping arcade, a games deck featuring a bowls green and croquet lawn, plus a 10,000 sq ft spa and fitness center. A total of 85 percent of the berths will boast outside views, and 71 percent will have balconies.
The interior will boast what the company described as an 'art deco flourish,' plus some solid, traditional materials such as oak, mahogany, stained glass, and marble. Guests will be treated to 1940's dances and balls and even classic films of that era.
And yes, keeping with the tradition a member of the Royal family will formally name the ship when she is completed after sea trials in summer 2010. Her maiden voyage begins on October 12 next year when she will travel from Southampton to the islands of the Atlantic. The 13-night voyage will include stops at Lisbon, Tenerife and Madeira with fares ranging from £1,489 ($2,093) up to almost £16,000 ($22,493) per person for one of the grand suites. This liner promises an experience like no other.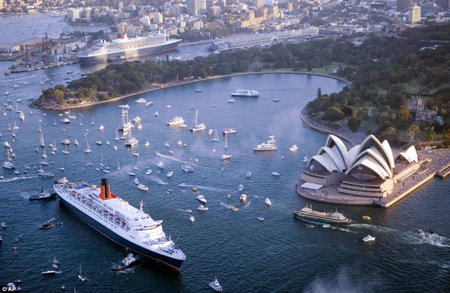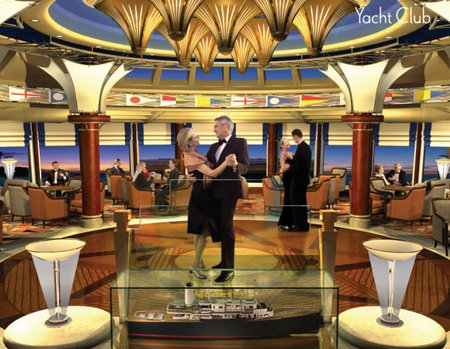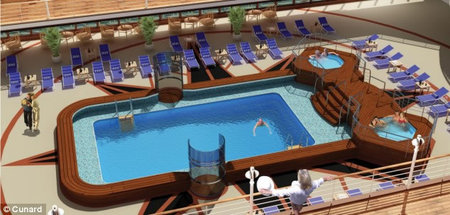 [Dailymail]