Luxury vehicles are known for providing a greater degree of comfort, convenience, and style to their drivers and passengers. When purchasing one of these cars, it's also possible to pay extra for additional features, many of which can be personalized to suit your specific tastes.

Manufacturers have brought many technological improvements to their luxury ranges, such as high-tech headlights that dispense with the need for fog lamps, but the premier exclusive add-ons are as much about the interior of the cars as about their overall performance.
All senses are catered for, and designers have thought of creative ways to increase the pleasures that taste, vision, hearing, touch and even smell can deliver. Below, we've listed some of our favorite luxury vehicle extras, all of which are perfect for anyone in the mood for a little more indulgence.

Rolls Royce Phantom's Starlight Headliner:
For $12,000, you can have the night sky installed into the headliner on your Rolls Royce Phantom. Part of the manufacturer's Bespoke program, the Starlight Headliner is created with fiber optic strands that are embedded into perforated roof leather at different angles.
The result is a gorgeous starlit evening effect, with the lights shining at various brightness levels to replicate a natural night sky. Passengers can relax and gaze into the heavens, even if it's pouring with rain in the real world.

Real Hides and Lambswool:
Softer, more opulent materials can make simply sitting in a car feel much more decadent. And, with real hide seats and lambswool floor rugs, luxury car brands like BMW, Mercedes Benz, Rolls Royce, Bentley, and Porsche are doing just that.
The real hide seats are hand-sewn by highly skilled artisans, and the floor rugs are perfect for a little foot-soothing at the end of a long day. Depending on the make of the vehicle and the exact products you choose, these items cost between $980 to over $5,000.
Porsche even offers premium leather cladding for air vents at a cost of $800 in a range of sophisticated colors. Seat belt buckles and outlets, sun visors, and steering wheel surrounds can also all be given this stylish treatment.

Personally Selected Interior Trims:
Taking bespoke interiors even further than lambswool rugs and real hide seats, Aston Martin, Bentley, Porsche, and other high-end car manufacturers will allow you to specify the finishes that you want for the trims. You can choose from stone, wood, granite, and other materials, or even supply your own if they hold special sentimental significance, or the patterns are particularly meaningful to you. To find out how much these veneers cost, you'll need to submit a direct, discreet inquiry to the manufacturer.

Fine Dining Facilities:
Al fresco picnics are always pleasurable, and even more so if you can enjoy them from your luxury vehicle. The Rolls Royce Phantom, Volvo XC90 Excellence, and Mercedes Maybach S-Class are just a few of the models that now come with refrigerators to keep your favorite drinks chilled.
You can sip from Orrefors glasses in a Volvo, or silver-plated champagne flutes in a Mercedes-Benz S600. The S600 also comes with a perfectly appointed picnic set, including two fold-out tables, while the Bentley Bentayga's $27,500 set is complete with a slide-out bench for tailgating in comfort.

Bang & Olufsen Pop-Up Tweeters:
For a sound system worthy of a symphony, renowned audiovisual brand Bang & Olufsen's pop-up tweeters are among the finest and most discreet options available. So much of our lives are spent in our vehicles, that if there's one area where most people feel comfortable splurging, this is it.
If you're buying an Aston Martin, you can spoil yourself with the B&O pop-up tweeters by adding $7,000 to the price tag. They seamlessly slide out of and into the dashboard, maintaining the car interior's sleek appearance.

Eye-Watering Timepieces:
The Bentley Bentayga's dashboard can be fitted with a $160,000 Breitling clock, called the Mulliner Tourbillon. The mechanical device winds itself, and it has a motor to rotate it so that it keeps running. Available in solid white or rose gold, the classic elegance of this piece is sure to make a style statement.
For something a little more modern, Aston Martin offers a watch that is worn by the driver rather than the car. The manufacturer has offered transponder wearables to unlock its luxury models since 2006, when it introduced the Jaeger-LeCoultre AMVOX2. Recently, the smartwatch was updated to AMVOX3 spec and is now available as an add-on for $29,500, when you purchase the car.

Bentley's Infotainment Pack:
New Bentley buyers can opt to add an infotainment pack to their purchase for $32,000. The pack includes two Android tablets or iPads, two in-headset displays, 15 GB of space and a 12-inch drop-down screen. This lets you stay connected to the world, keep on top of work, or entertain your passengers in total comfort on long trips.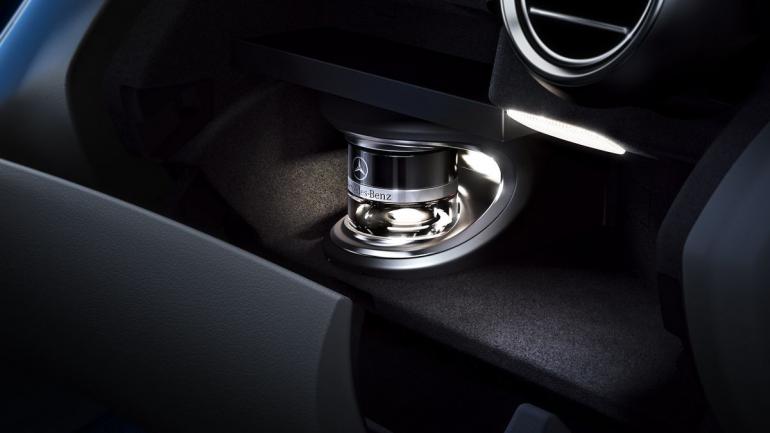 Mercedes Scents:
The S Class of Mercedes-Benz automobiles feature a fragrance system that looks as good as it smells. Proprietary glass vials contain one of four scents, each of which has been specially developed to suit the interior of the vehicles. Each vial costs around $60 and lasts for around a year, making it the most economical item on this list of luxury car extravagant indulgences.
The beautiful pots are mounted in a special holder tucked away in the glove box and are electronically controlled to re-fragrance according to a set time schedule and strength. By atomizing the fragrances, Mercedes-Benz has ensured that they won't permanently change the way the car interior smells (as cheaper products are known to do) and won't cling to any surfaces.
The scents were specially designed by Marc von Ende, a senior perfumer at fragrance and flavor specialist Symrise. They're named for the moods they evoke and include the light and citrusy Freeside, the floral and musk Downtown, the cardamom-infused Nightlife and Sports which has notes of citrus and greens. The empty canisters can also be refilled with any alcohol-based fragrance of your choice to personalize your ride even more.
If you're looking for an indulgent add-on for your new car, any one of these options are sure to increase the luxury factor.