The best part that I like about luxury cars is the fact that you can customize it for extra comfort and make it look even more opulent. The 2010 Paris Motor Show saw one such launch through the Maybach 57 and 57 S models. The luxury car makers will soon have the power-packed and feature rich vehicle out to sit pretty in your garage too! The car will feature a shaped edge bonnet, trimmed front bumpers that come with LED daytime driving lights, dark red tail lights, a special paint job and stylish wheels.

On the inside, you can opt for a Maybach 62 models rear reclining seat, hand-braided or Swarovski encrusted seat piping, a delicate flacon perfume atomizer, a WLAN router internet access and a 19-inch cinema screen.
The Maybach 62 and 62 S models come with additional option of an overview camera specially fitted for the entertainment for the rear passengers. The seat backrest will features the text "MAYBACH MANUFAKTUR" in 925 sterling silver, customers can also add colored carbom fiber trims in silver of red for a more dramatic effect. The car however will be available in Bahamas Blue color.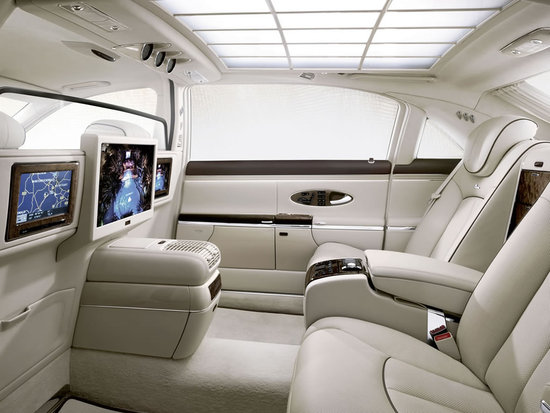 [Emercedesbenz]