Magnum Marine has unveiled its largest yacht, the Magnum 100′ model, which is expected to be ready for delivery by 2012. The styling credit goes to Italian designer Alberto Mancini, who has given this yacht an entirely different yet luxurious look. The luxurious yacht will strike the right chord with green lovers as it has been designed by Magnum to be eco friendly. The vessel is built in advanced composite foams and carbon fiber, allowing critical HP to weight ratios to be met with lower power and making the vessel structure more rigid and more efficient. Magnum has installed surface drives that not only reduce fuel consumption but also increase top speed. Furthermore, the luxury yacht will feature an electric "harbor" drive, an electric wing engine for slow speed operation that runs virtually silent and smoke-free.

The Magnum 100′ features different seating, dining, and viewing areas, with an expandable top that offers various movable shaded areas. Even the interiors of this yacht have been designed to save energy without compromising on luxury. The Interior LED and fluorescent lighting increases efficiency and decreases interior heat load. The yacht will feature four double and very large staterooms, heads, reception and salon areas, and crew cabins. The customers will also have the choice of customizing the yacht according to his/her needs.
The most perfect yacht for the future, the Magnum 100' promises to rule the waters for a long time.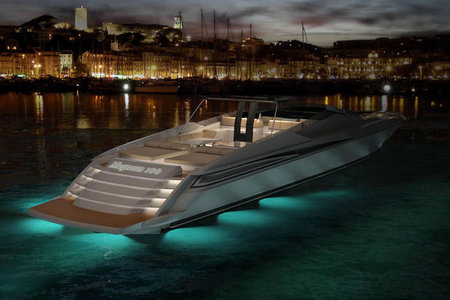 [SuperYachtTimes]