In a bid to win over the bling-loving folks of Dubai, Mercedes-Benz unveiled its special "AMG Desert Gold" supercar at the bi-annual Dubai Motor Show. The special SLS AMG Gullwing supercar sports a matt gold color while all the decorative and mounted features like the Mercedes star at the front and the fins on the bonnet and flanks have been given a deep-black paint finish. This golden beauty on wheels is sure to appeal to every luxury lover in Dubai. A one of a kind car, its black-painted AMG light-alloy wheels are embellished with a golden ring on the rim flange. The interior of the 571HP Gullwing-supercar remains intact with black leather and carbon-fiber trim.

Although the gold paint finish car is only a display vehicle, the automaker says if there's enough interest generated, the special gold paint finish could become available as an individual optional extra from the AMG PERFORMANCE STUDIO.
Considering the Dubai folk's love for luxurious gold cars, this golden Mercedes is sure to find a number of admirers as well as buyers.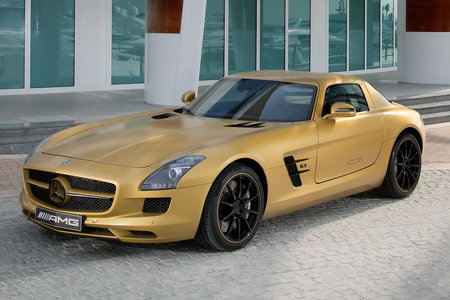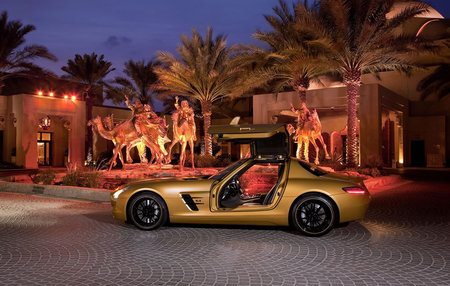 [Carscoop]