Olmax Fabrication is all set to debut the SS Trike's production version at the AMD Official World Championship for Custom Bike Building in Sturgis. Resembling the classic "Big Wheel" Chopper-style design, the SS Trike is all set to impress the bikers club of today. The giant hoop upfront measures 24 inches in diameter, easily dwarfing the classically-cool 14-inch American Racing rims outback. Air-cooled V-twin engines provide power from Ultima, S&S, or TP.

The twin rear wheels receive power through either a six-speed manual gearbox or optional automatic transmission developed using well-known GM Powerglide parts. Moreover, through a quick change of seats and foot controls, this bike can be adjusted to accommodate riders ranging from 5-foot tall to 6-foot-2. Available in all primary colors, interested buyers also have the option to choose additional options such as graphics, Wire-Plus digital speedo, air-ride suspension, a solo seat with an enclosed trunk, multiple trim treatments, and a black or polished engine.
Just visit the Champions Park in Sturgis, SD to get a close up of this amazing bike.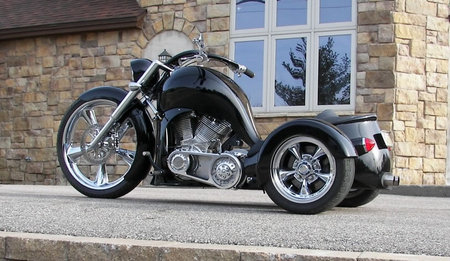 [Autoblog]