Dutch Vitters Shipyard has created an elegant beauty that is one of the latest revolutionary and modern yacht designs ever seen on the high seas. The 42.6 meter super luxury yacht Sarissa is truly a wonder for its meticulously detailed interiors and exteriors. It was envisioned and executed by the naval architect Bill Trip and Rhoades Young Design Ltd and is the largest Dutch-built carbon fiber sloop to exist to date. Modern technology and extravagance come together in a moment of state-of-the-art design in luxurious minimalism on the Sarissa.

There are spacious sunbeds that provide 360-degree views and a cockpit that is perfect for an al fresco dining experience on deck. Step down into the main cozy salon of the Sarissa and relax on its comfortable L-shaped sofa or customized Barcelona chairs. Natural sunlight pours in, and a sense of openness and calm can be felt even on the yacht levels below. Delicate railings use every inch of space to maximize this sense of space.
An intimate port side lower saloon and study/guest cabin, with three crew cabins, are all set in light and dark wood. At the lower deck level, the hallways have been constructed slightly diagonally to give that extra breathing room.
Beside an additional nanny cabin available, the entire capacity of the Sarissa totals up to nine guests.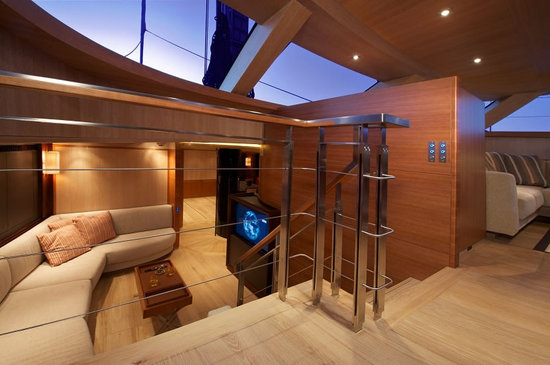 [SuperYachtTimes]