Here is one croc that even the crocodile hunters will find it hard to trap. Zooming across the highways at speeds of more than 120mph, this croc is no easy catch. The only way you can get her is by entering a unique raffle. The brainchild of Jim Jablon, this croc is actually a bike dressed as a croc! Christened the "GatorBike," this mean looking machine has been crafted from the skin and skull of a real alligator that was culled by authorities to keep their numbers down. In Florida, Jim Jablon, owner of the Wildlife Rehabilitation of Hernando (WROH), who works to rescue and rehabilitate exotic pets, created this bike to help raise funds for his center. The GatorBike was made by Swedish craftsman and leather expert Benny Ohrman, who spent a year perfecting its scaly contours. The custom-made bike has a powerful Ultima engine and cost Jim £51,000 ($80,000) of his own money to build.

The skin is detachable, but the head is fixed permanently into the handlebars with the speedometer and other gauges implanted into the back of the skull. The lower parts of the bike, too, have been given a beautiful alligator skin paint job. The GatorBike will be presented to a lucky winner of the raffle drawn in May in Fort Lauderdale.
What is more, the raffle event will also be a unique one. Jim plans to print off every entry, place them in a pool full of alligators and 22-year-old model Amara Tamura, dive in, and fetch a winner at random. Defending his unique idea, Jim says, "It's not dangerous," we're not going to attach the cooked chicken to her or anything."
The tickets for the raffle are limited to just 1000 and can be bought at Jim's website for $100.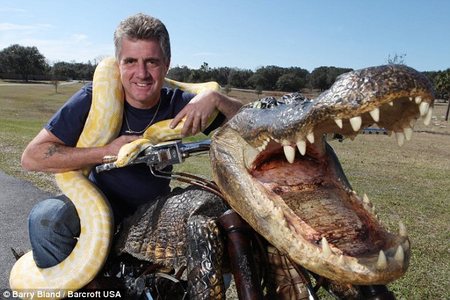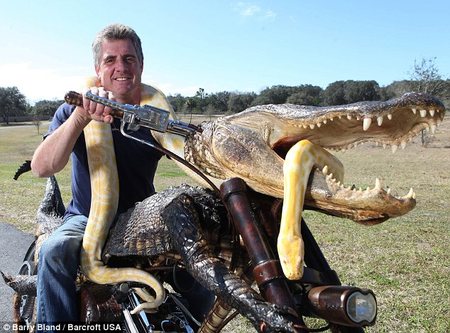 [Dailymail]