The McLaren MP4-12C supercar will surely make you forget about the Spyker C8 Aileron Spyder. The first details and images of the MP4-12C are finally out, and it looks to be one promising mean machine. Developed entirely in-house, the MP4-12C features the latest automotive technology advances derived from the Formula 1 circuit. It has been built around a single, lightweight car and extremely light and rigid carbon fiber tub weighing just 178 pounds. A carbon-fiber beauty, all its panels, and composites are made from this lightweight material. The MP4-12C boasts a twin-turbo 3.8-liter V8 engine that produces around 600 horsepower and 433 lb-ft of torque. McLaren claims that this is the highest horsepower to CO2 ratio of any internal combustion engine on the market – gasoline, diesel, or even hybrid. The beauty features a flat-plane crank, dry sump, and can rev up to 8,500 rpm, though 80% of the torque is said to be available from as low as 2,000 rpm.

According to McLaren, the ceramic brakes are aided by a Brake Steer system that breaks the inside rear wheel to combat the understeer and keeps all that power and speed in check. The seven-speed dual-clutch transmission, where Pre-Cog lets the driver load up the next gear by half-squeezing the paddle and then engaging with gunshot speed, is another unique feature of this supercar.
A dream machine for many, it is priced at £160,000 ($265k). The company plans to build 1000 units of this supercar in 2011. The car will be available for sale both in UK and USA. What is more, there are apparently plans of developing a roadster version to join the coupe. Simply stunning, the MP4-12C is a speedster that will appeal to each and every supercar enthusiast.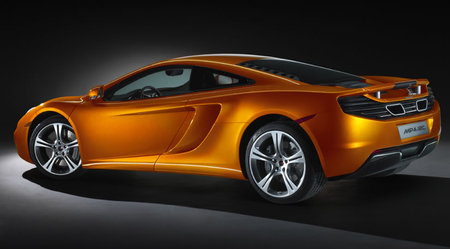 [Autoblog]