When it comes to Bugatti there is really very little that can be improved; in terms of technical specs, Bugatti is at the top of its game. Bugatti could essentially sit on their laurels and watch as other luxury carmakers struggle to catch up. Instead, they choose to experiment with the car's exterior and somehow endeavor to make driving a Bugatti look even better. On display at the 2013 Geneva Motor show are a Bugatti Veyron 16.4 Grand Sport and two expressions of the Grand Sport Vitesse. They have used exquisite carbon momocoque exteriors that have been crafted to precise requests.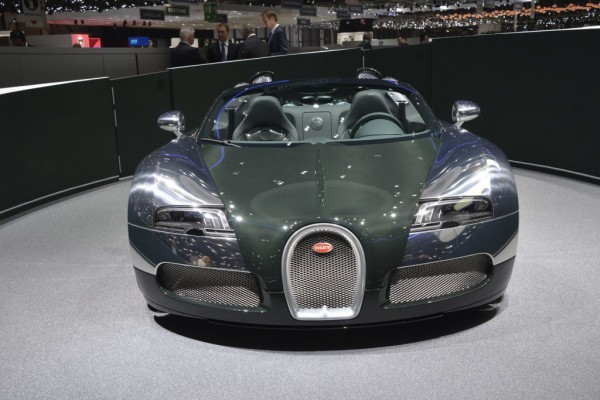 Possibilities to personalize a Bugatti Grand Sport are endless; the one displayed at the Geneva Show is a 1,001 hp. The exteriors have been finished in a green and carbon silver theme. Endearing details such as the motif of a dancing elephant embossed in the front of the air intake shafts make this car truly unique. With a price tag of 1.92 million Euros ($2.5 million), this car is reminiscent of the Art Deco bonnet figure designed by Rembrandt Bugatti.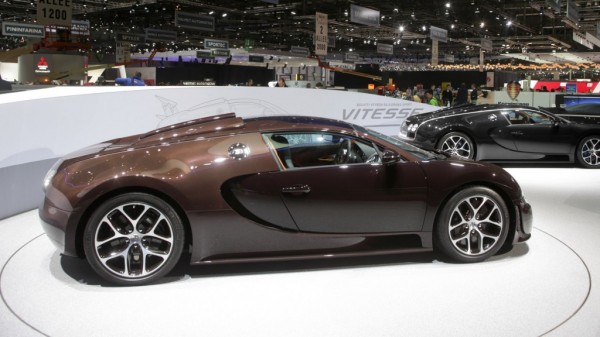 The two Bugatti Vitesse's on display show a new color scheme, and Bugatti perfected carbon construction. The Bronze-colored Vitesse is finished with carbon components n the rear and the cowlings, roof frames, and the A-pillars. To add a level of contrast to this royal bronze shade, the side panels stretching from the front to the rear air intake grilles have been painted in a brown 'Fire Finch' tone. This provides what Bugatti is calling a 'Ying & Yang' composition. To add a bit of whimsy and youth to these distinguished colors, Bugatti decided to go with a combination of Dark Brown and Burnt Orange for the interiors. The Bronze Vitesse costs 1.95 million Euros ($2.5 million).

The third Vitesse has been left bare to show the fully composed carbon fiber body. The brake calipers and exterior mirror housing have been finished in blue to provide a bright contrast to the stark black exterior. The roof trim and grille have been finished in polished aluminum. The interiors complement the monochrome exteriors in a combination of Beluga Black and brown Gaucho leather.
[Motorauthority and Facebook]