The London Olympics 2012 is now over, but the celebratory mood is just starting to set in. After London officially pulled curtains to the greatest storing extravaganza, Rolls-Royce celebrated the event with three spanking new Phantom Series II Drophead Coupés with newly-designed badges, a first in its 108‑year history. Designed by the Rolls-Royce Bespoke Design Team, the logo has replaced the traditional double R. Set in English White; if you noticed during the closing ceremony, the majestic cars "silently conveyed three coveted British artistes during the event, titled 'A Symphony of British Music." The cars will sport the new grille badge with the iconic Spirit of Ecstasy featuring the Union Flag instead of the traditional flowing gown.

The steering wheel centre sports a traditional laurel wreath and torch, and the self-righting wheel centres reads 'London 2012' along with the Olympic motto, 'Citius, Altius, Fortius' ('Faster, Higher, Stronger').


With just three cars up for grabs, these become truly a collector's pride.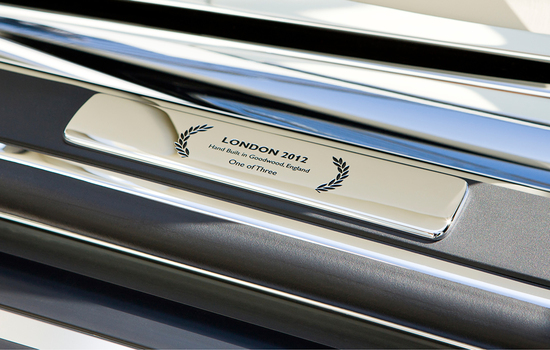 [Press-Rolls-Roycemotorcars]