Geeks and gaming enthusiasts everywhere, here is a vehicle that will surely drive you crazy. Known as the Toyota Tacoma All-Terrain Gamer, Toyota Motor Sales U.S.A. has designed this pickup truck in partnership with a group of experts, including The B.A.D. The company is the primary builder, Microsoft Xbox, Kicker, Toyota Racing Development, INNO Advanced Car Racks, and Cannondale. The amazing vehicle lets you enjoy a combination of outdoor sports and activities and indoor activities like video games. The BAD Company has done one amazing job with the 2009 Tacoma Double Cab Long Bed PreRunner V6 five-speed automatic vehicle provided to them by Toyota, giving it a whole new look and features. The B-Pillars have been removed and replaced by double gull-wing doors to increase space; the front seats are also removed and repositioned to the outboard rear locations to create adjustable theater-style seating.


A gamers' haven, the ultimate gaming experience is enhanced by the sound which is provided by a two-channel custom Kicker audio system. The car is equipped with four monitors on two swing arms to allow the vehicle to be easily converted from a gaming station to a drivable truck. But here is the best part, the car features four Simpson custom upholstered off-road racing seats with four-point black racing harnesses, custom three-tone upholstered interior and a mini-fridge energy drink dispenser!
For storage, the car features an INNO Ridge Wide Cargo Box attached to a roof-mounted roll bar; two Upright Lock Bike Racks mounted to truck base rack systems that are stuck directly to the tonneau cover. The two Lock Bike Racks carry Cannondale RZ ONE Twenty and Cannondale Moto 4 high-performance mountain bikes. The exterior is as stunning as the interior. Some of the exterior modifications include drilled aluminum interior panels, an acrylic hood with an engine viewport, a 66-inch plasma monitor with a custom roll cage enclosure, a blacked-out front grille, front and rear bumpers, smoked front head and rear tail lamp treatment, and Xbox graphics.
A powerful vehicle it is equipped with a 304 horsepower 4.0-liter Supercharger. The customized Tacoma pickup truck is slated to make its debut at the 2009 SEMA Show after which it will be used by Toyota, Xbox, Kicker, and INNO for a variety of consumer and industry events.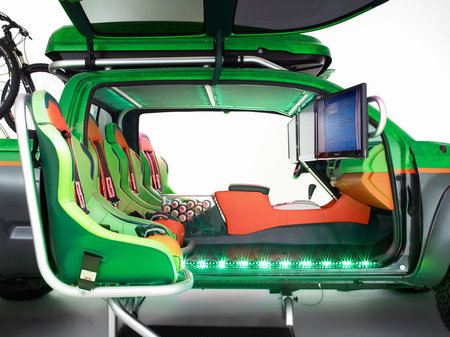 [Techeblog And SeriousWheels]