Airbus showed off the interior of its new A350 XWB for the first time at its Hamburg facility ahead of a launch later this year. From nose to tail to wingtip, the new aircraft incorporates design features that not only make it impressive to look at but will also be shaping the future of air travel.

Here are 10 reasons why Luxurulaunches believes you will instantly fall in love with the next-generation aircraft:
10. Accent Lighting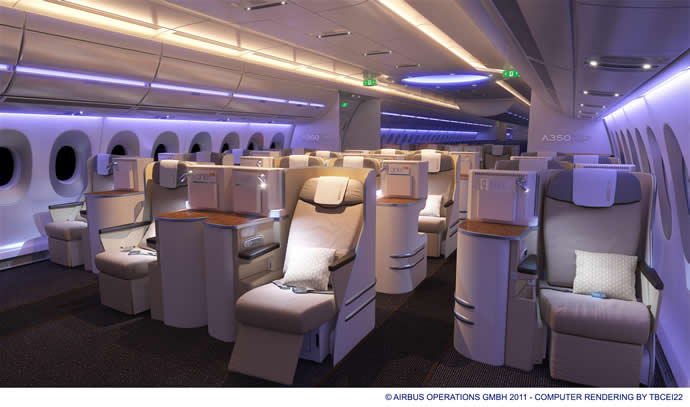 Airbus is applying the latest technology in energy-efficient LED mood lighting. This enables the cabin ambience to be tailored to each airline's own identity, as well as creating day and nighttime illumination that helps the body adapt to jetlag on long-range flights. The Airbus innovations also include accent lighting for overhead stowage bins, windows, cabin dividers and in the ceiling, along with the capability to project special effects onto the ceiling.
9. Overhead Storage Space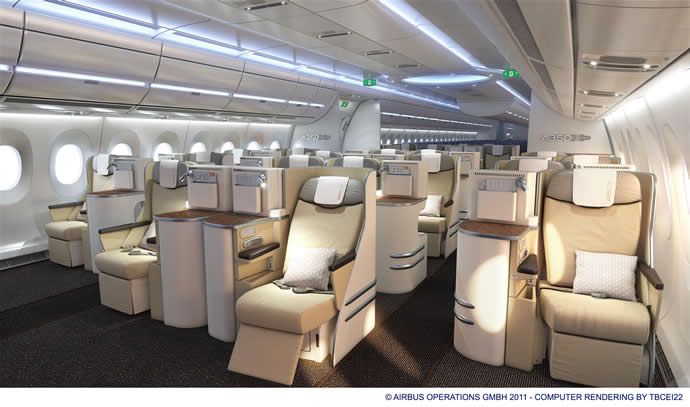 Airliner ditches the old slam-door style overhead bins for larger swing bins to meet passenger's needs for additional carry-on luggage space. The economy class passengers can now stow a large personal item besides one standard roller bag while the business class overhead stowage accommodates two roller bags per passenger.
8. Windows with "polarisation" shades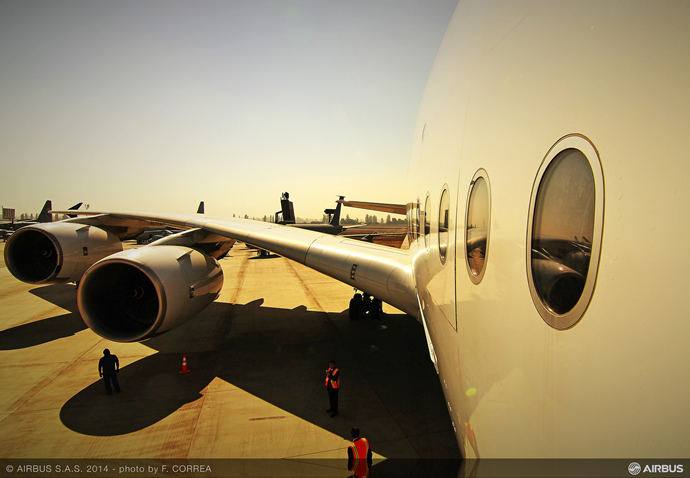 Travelers who enjoy gazing out the window will be pleased with the extra-wide widows. It's not just the view but the A350 feels more airy due to its large windows. Additionally the auto-mechanical shades consist of two blinds –sheer and dark that descend and retract at the push of a button.
7. Bump-free floor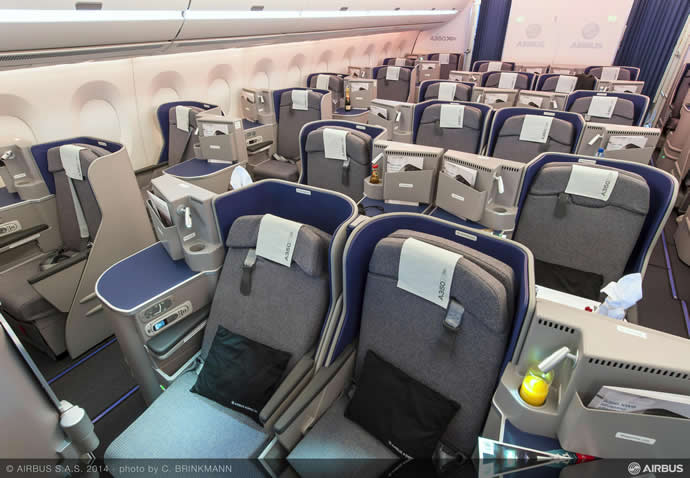 In the new arrangement, seat rails and cables are lowered to become invisible and their covers are flush with the carpet – resulting for the first time in a fully flat cabin floor that is easy to walk and roll your luggage over.
6. Green Flying


In reducing emissions across the board, and taking measures to minimize hazardous materials, the A350 proves that its lower environmental impact can also be good for aviation and for green consumers. Airbus brings together the very latest in aerodynamics, design and advanced technologies in the A350 to provide a 25 per cent step-change in fuel efficiency compared to its current long-range competitor. The airliner design favors materials that lower the environmental footprint of the aircraft's manufacture. Simply put, every tonne of fuel saved means more than 3 tonnes of CO2 avoided.