Once there was a time when it really was just the wealthy and the famous who were habitual casino visitors. A time when it was as much who you knew as what you knew that could open the doors to some of the most exclusive gaming houses in Europe, America and all around the world.

Casino entertainment might have become much more accessible nowadays, but there are still places where the sheer level of opulence and service will make you feel part of an elite group, privy to some very special treatment and experiences – and here are five of the most impressive examples.


The Aria, Las Vegas
In a city know for its excess, The Aria somehow manages to combine being a large Vegas casino with a feeling of five-star-plus luxury. With 145 gaming tables where you can take your chances at roulette, blackjack and craps, there's also a 25 table poker room named after the legendary professional Phil Ivey. If you're also the kind of gambler who likes to play Devils slot and other spinners at online casinos such as Regal Wins or generally just enjoys the thrill of the spinning reels, then you'll also be pleased to hear there are over 2,000 slots machines there too.

Marina Bay Sands, Singapore
There's surely no building in Singapore that's more breathtaking than the Marina Bay Sands. Yes, the casino's impressive but what really makes this the destination of choice for the world's high rollers is the stunning 1.2-acre tropical oasis high above the city, complete with its 150-meter infinity pool. The whole Sands Sky Park that spans the three majestic towers is said to be longer than the Eiffel Tower is high.


The Ritz, London
The Ritz in London has a long and colorful history and when it comes to its casino this is as close as you may get to one of the gentleman's gaming clubs of old. Set in the splendid and ornate surroundings of this venerable old hotel, there's a Salon Privé for more intimate gatherings or the principal gaming salon. Wherever you choose to play you're assured discreet service and a classic taste of luxury.


Casino Baden Baden
A very different kind of old-world charm awaits you at what Marlene Dietrich once described "the most beautiful casino in the world." In southwest Germany, close to the French border, Casino Baden Baden has been welcoming European aristocracy and royalty for over 150 years. The Belle Epoch architecture is styled on French palaces, the centerpiece of which is the stunning Red Hall illuminated by a priceless chandelier.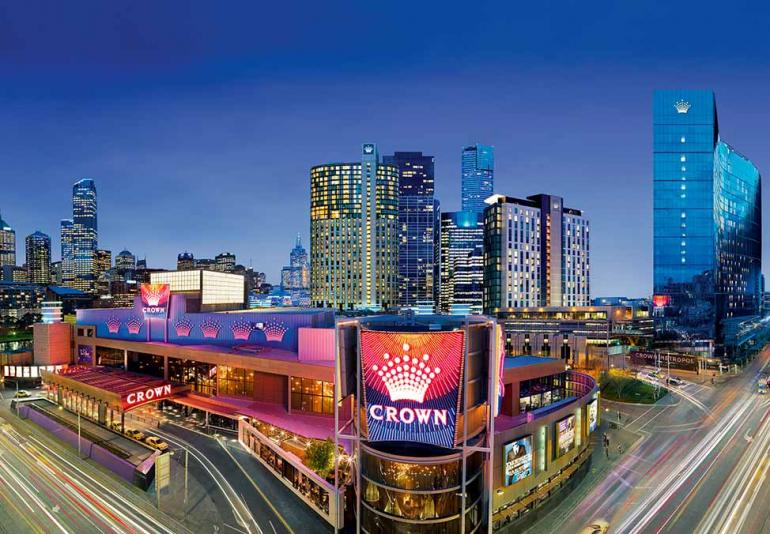 The Crown Casino, Melbourne
For our final visit to one of the world's most exclusive casinos here's one that's as appealing to foodies as it is to gamblers. As well as being home to a sublimely appointed casino on the banks of the River Yarra, dining is under the direction of Heston Blumenthal who has brought his Dinner restaurant all the way to Australia from its original London home. But with the tasting menu costing $295 per person, you'll also be hoping for some big wins when you're there.
In fact, you'll be hoping your luck's in at all five of these exclusive pleasure palaces, and we've got our fingers crossed for you too.