After gracing the skies for over 45 years, Air France has decided to ground all its Boeing 747 aircrafts from its long-haul fleet. The last scheduled Air France 747 flight landed a couple of days earlier, but the airline had conducted special 'last flights' for customers on January 16 and 17 before it retired from the Le Bourget airfield. Some 30,000 people tried to get on board for one of those last flights. The airline also conducted two tribute flights to the Boeing 747 over France and its historic landmarks on board the Company's last two B747s on 14 January.



The 747 first entered service with Pan Am in 1970 and has since been popular among travelers for its flair and elegance, earning the nickname "Queen of the Skies." Air France's first flight on the 747 was from Paris to New York, completed on June 3, 1970 and since then became the flagship of its long haul fleet. It immediately shot to fame for creating some industry firsts. From the introduction of a chief purser; a passenger capacity of 500 passengers; inflight cuisine with menus designed by French chefs like Paul Bocuse, Gaston Lenôtre and Pierre Troisgros and its cabin interiors designed by Pierre Gautier-Delaye, who paid particular attention to the comfort of the seat cushions and seatbacks. The airline has since then operated a total of 52 B747s, but has now decided against ordering the new B747-8 version, instead favoring the B777 and Airbus A380. A major cause for this was the rising fuel prices and sluggish revenues.


For 37 years, the 747 was the biggest commercial airliner in the world, until the Airbus A380 appeared in 2007. Many of the pilots who were on the last flight fondly remembered the good times onboard the aircraft and how the plane represented the last real flying experience before the computers took over.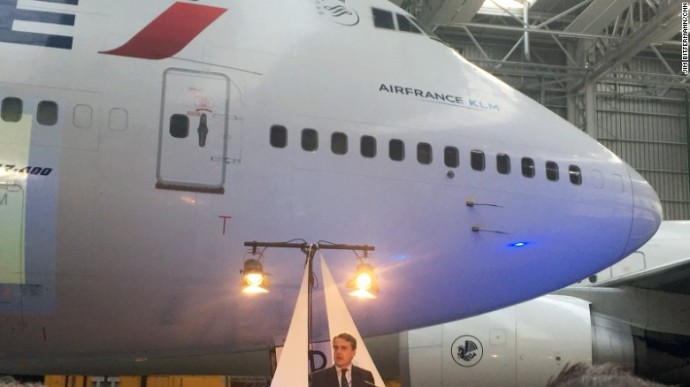 An Air France Boeing 747-100 will be on display at the Air & Space Museum at Le Bourget, now the only witness of the Golden Jumbo era at the French carrier.
[ Via : Cnn ]