As the battle continues between London and Paris for the world's top tourism spot, the latter continues to welcome about 45 million visitors annually (including 17 million international visitors). The city of Paris and its surrounding regions is home to 3,800 historical monuments and four UNESCO World Heritage Sites and the city is easily on everyone's bucket list today. Whether it's strolling across the River Seine, sipping on some fine French wine, taking in the views from atop the soaring Eiffel Tower or exploring the fine works of Monet and Da Vinci at the Louvre Museum; tourists are never at a want for things to do in this city.

It goes without saying that Paris is top-notch and culture aside, the city is also a food-lovers capital with the second highest number of Michelin-restaurants in the world (after Tokyo). The City of Lights, as it is popularly known is also the fashion capital of Europe and is home to some of the world's most luxurious fashion labels including Louis Vuitton, Chanel, Dior, Yves Saint-Laurent, Guerlain, Lancôme and L'Oreal among others. While there are plenty of free activities around town, particularly in the summer with free concerts and festivals; Paris is synonymous with luxury living and is totally worth the splurge.
Here are our favorite Top 5 luxury experiences in this romantic city.
Flying into Paris


Air France La Première class is truly its premier product offering giving passengers the pleasure of a personalized service right from the start of their journey. From their arrival at Paris-Charles de Gaulle airport, guests are offered a privileged welcome and escorted into a check-in lounge, where they can relax while the La Première staff checks in your baggage. Passengers are then personally escorted through immigration and dedicated security check lanes to the La Première lounge. One of the finest first-class lounges, dedicated to La Première passengers, the luxurious space offers guests everything from a relaxation area to fine dining and cozy, private spaces to read or work. The extraordinary cuisine and wines meals served have been conceived and chosen by Alain Ducasse for Air France. A bar area is also available offering an original cocktail menu created especially for Air France by their expert bartender. The lounge also offers a range of exceptional personalized treatments, conceptualized by Biologique Recherche with treatments including facial and body massages, suitable to meet the needs of frequent travelers.


On-board, the La Première cabin has been designed keeping both aesthetics and privacy in mind. The cabin offers between four and nine gently curved seats, offering direct access to the aisle, no matter where you are sitting. Each seat converts into a real bed, measuring two meters, complete with a mattress, a hypoallergenic feather pillow and a duvet. There's ample storage space for your belongings and a wide tray table enabling you to work or enjoy meals with greater ease. A cozy bench facing your seat is also available, allowing you to comfortably invite a coworker or fellow traveler to spend time with you during your flight.


Passengers are also offered a pure merino wool blanket, a "boudoir-style" cushion, a full range of accessories including comfortable lounge wear, dust bag for your shoes, slippers and a travel kit consisting of a selection of Biologique Recherche facial and body care products.
Offering state-of-the-art technology on-board, each seat-bed integrates a 10.4-inch interactive video screen, a selection of on-demand videos, a PC power outlet, an auto-massage function, an individual telephone and ambient lighting and a reading lamp.


Dining on board is an experience and all flights departing Paris has been called upon the "Studio Culinaire Servair", headed by Joël Robuchon, the chef who earned the most Michelin stars worldwide in 2009, Guy Martin, Michelin-starred chef of Le Grand Véfour and Jacques Le Divellec, Servair consulting chef. Together, they offer the finest on-board dining service meals, keeping alive flavors that are authentic to French cuisine. Passengers have the choice of choosing their meals times depending on their flight timings.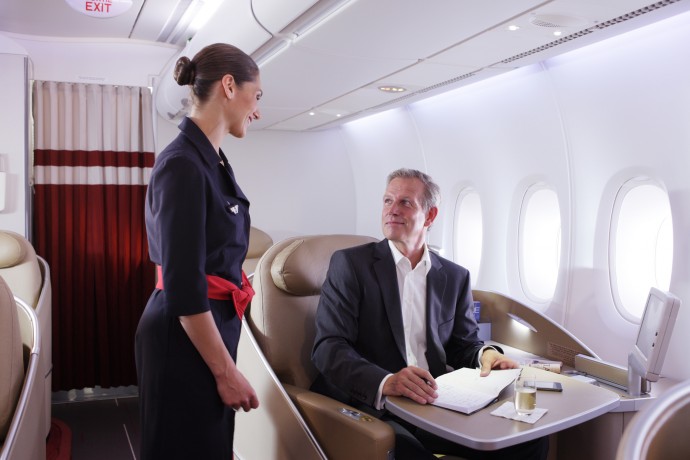 A one-way fare from New York's John F Kennedy to Paris, Charles de Gaulle on Air France's La Première cabin costs $8,120.
[Air-France]