The long-awaited Chengdu Tianfu International Airport in China is finally open to the public! It was officially inaugurated with a Sichuan airlines flight to Beijing taking off the runway at 11:10 a.m. on Sunday – June 27, 2020.



Boating a capacity of 60 million passengers per year, the airport is constructed at the cost of about 70 billion Chinese yuan or a whopping $10.8 billion). At present, it houses three runways and two terminals, covering a total area of 710,000 square meters.

It is located 50 kilometers from downtown Chengdu and is designed in collaboration with the china southwest architectural design and research institute, the china airport construction group corporation, and French architecture practice ADP Ingenierie.

As per reports, three more runways will be added in phase two of the construction, with the building occupying a total area of over 330,000 square meters, which equals 46 standard football fields, featuring five floors and two underground floors.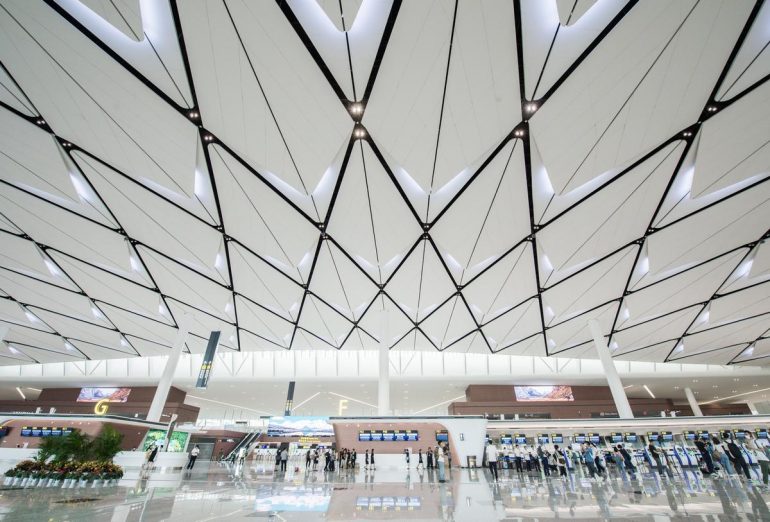 Commenting on it, Aviation Analyst Brendan Sobie in a statement, said, "The new airport in Chengdu was needed to accommodate continued rapid growth… China's domestic market has already fully recovered from the pandemic and will continue to grow rapidly. given the size of the city and its central location in china, Chengdu is very well-positioned to benefit."

Remarking further, ADP Ingénierie's regional managing director for Asia pacific, Jean-Yves Coulot, added, "Based on the client's requirements, our planners and architects put forward a concept where the two buildings are distinct while sharing the same architecture. One will primarily handle international flights while the other will handle domestic traffic, giving a clear understanding of their respective functions."

Aviation at its best, shall we say?
[Via: CNN]