Dubai doesn't seem content with housing the world's tallest building and bridge. Now, the fast-developing nation will also boast of the world's largest airport! Christened, Dubai World Central-Al Maktoum International airport, it is all set to open on June 27. The new airport will open initially for cargo carriers, with passenger operations currently slated to start up at the end of March 2011. An Emirates Airline became the first carrier to land its aircraft on Dubai World Central as part of final preparations before its official launch.
More images follow……

The successful test served as a final exam following an extensive array of system, process, and documentation checks, tests, and trials that have taken place over the past several months to prepare the airport for opening day.
Living up to its title, Phase 1 of the largest airport in the world 1 will feature one A380 capable runway, 64 remote stands, one cargo terminal with an annual capacity for 250,000 tonnes of cargo, and a passenger terminal building to accommodate five million passengers per year. When completed, the airport will boast of five runways, four terminal buildings, and a capacity for 160 million passengers and 12 million tonnes of cargo.
After the successful testing, the General Civil Aviation Authority, the overseeing regulator will conduct a final review on June 24 to complete airport licensing.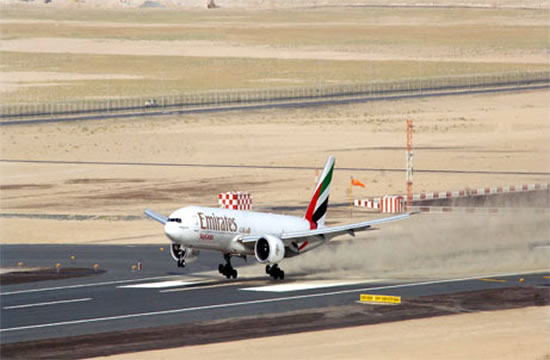 [Ameinfo]