Ireland is famous for its picturesque countryside, boasting endless green expanses of emerald grass, cliffs, beaches, and every idyllic natural setting that you can think of. But until now, the only way to see these places has been through long and uncomfortable car rides, well that's about to change. The Emerald Isle is getting its very first luxury train which will provide a lavish new way to experience Ireland. We've seen luxury trains before, but this one is something special!



Called the Belmond Grand Hibernian, this train was launched in Dublin just a couple of days ago and offers a six-night trip called the Grand Tour of Ireland which passes through some of the most beautiful parts of the island.


The train's 10 carriages include 20 en-suite cabins, two dining cars, and an observation car.

Belmond compared the experience of being a guest on this train to travelling in an Irish country house, and judging by the lounge pictured above, we'd say they're right on the money.

40 skilled craftsmen from specialist outfitters Mivan Marine refurbished the carriages which Belmond had purchased from the Irish Rail.

London based JPA Design was roped in to tackle the interiors which in inspired by Dublin's Georgian architecture as well as Ireland's flora and fauna.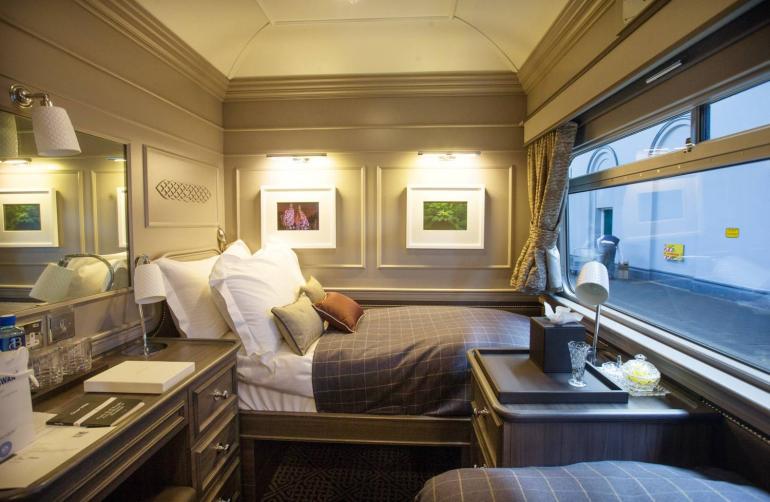 The train's carriages have been named after Irish counties like Kildare, Wexford, Sligo, Kerry, Down, Waterford, Leitrim, Fermanagh, Donegal and Carlow.

The six night tour will take guests through Cork, Killarney, Galway, Belfast and Waterford before heading back to Dublin where the journey began.

On the itinerary are visits to spots like Titanic Belfast, Blarney Castle, Killarney National Park, Ashford Castle and the House of Waterford Crystal.
The menu features Irish inspired favorites like seafood chowder, Roast Killarney Venison, Donegal Turf Smoked Salmon and Crab Cannon, Skeaghanore Duck Leg Confit and Warm Kildare Wild Elderberry and Plum Compote. The ingredients are locally sourced.
"'As a proud Irishman, I am delighted to be part of the launch of this exciting new train showcasing authentic Irish hospitality, scenery, produce and culture," said General Manager, JP Kavanagh, at the launch.
Prices vary depending on the length of your stay; €3,160pp for two nights, to €5,420pp for four and €7,722pp for six.
Visit Belmond.com to know more.
[ Via : Independent ]