Kazakhstan is not popular just because of the Borat factor, and the country is also known to be house to the second coldest capital in the world. Climatically, it is the complete opposite of Dubai. Still, they have decided to take their lead to combat the icy cold conditions of Astana, which see temperatures drop to -40F in winters. A project called the Indoor City is next on the cards, a 2km circumference featuring a lake, palm trees, Venetian-style houses, and gondolas, and will provide housing for 20,000 people.

While top architects, including Norman Foster, Italy's Manfredi Nicoletti, and Japan's Kisho Kurokawa, to develop designs for the buildings, Turkish construction firm Sembol has already started work on an indoor park, featuring a shopping and entertainment complex called Khan Shatyr for Kazakhstan.
Foster's transparent tent design has been done with a cable structure engineered by Britain's Buro Happold. The complex features a tropical climate, featuring an indoor beach, water slides, a wave machine, and a tropical garden. The lower zone will feature an amusement park, a shopping complex, and a monorail system. The Indoor City will appear similar but scaled accordingly.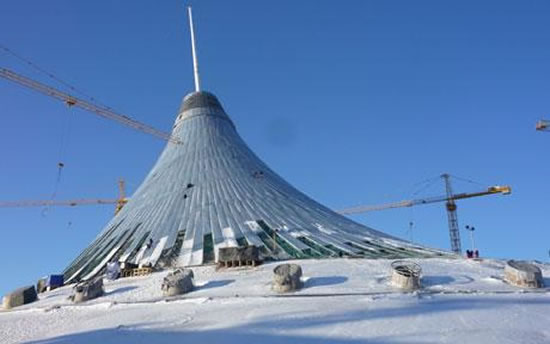 [Telegraph]