If a cold weather vacation is on your mind, keep reading, because this is winter wonderland like you've never seen before. Far away in Lapland- the northernmost past of Finland- is landscape so beautiful, you've most likely only ever seen it on Pinterest. Pristine snow, frosty conifers and of course, the stunning Northern Lights that are visible at night characterize the dramatic location. But you know what else is really cool (excuse the pun) about Lapland? Igloos.



No, we're not talking about the dome style structures made of ice that are inhabited by Inuit people (those are cool too though), we're referring to the glass micro-home style structures offered by Levin Iglut to intrepid travelers.


These are far from rudimentary structures. According to the company website they "feature electrically heated non-fogging glass, air conditioning, a small kitchen, shower and toilet, a wi-fi connection and motorized beds, which you can adjust to the desired position for watching the northern lights or sleeping."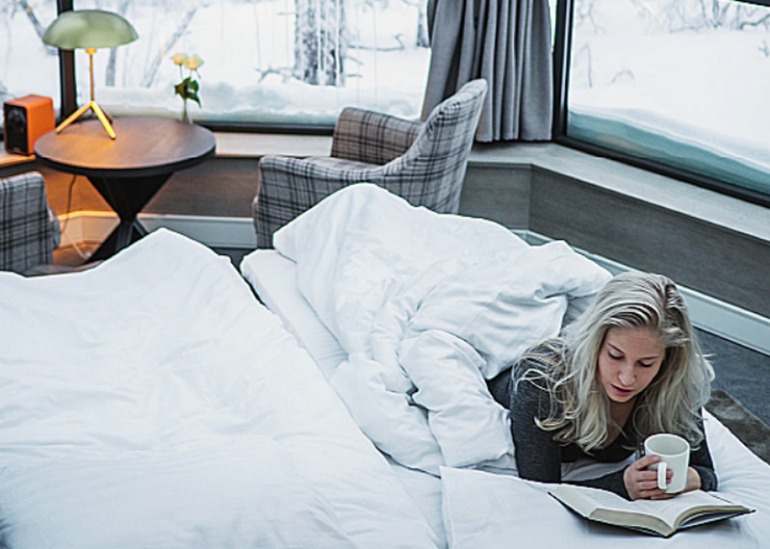 The igloos are situated in a prime location with unobstructed valley views and two styles are available for potential guests to choose from.
The two-person Premium igloos, and the Superior igloos the latter of which has space for an entire family, with the option of an extra bed for two children under the age of 12.
The best part of staying here is being able to look at the Northern Lights through the glass roof in the warmth and comfort of the igloo.
Learn more here