The travel community is abuzz with Berlin hosting the largest travel trade show this week. For days, Qatar Airways was expected to become a key player of this year's edition…and the airline did not disappoint. On the first day of the fair, Chief Executive Akbar Al Baker announced a potential order of 50 Airbus A321neos and plans for a 100-aircraft domestic airline in India. Two major announcements for the industry, even though nothing as exciting as the unveiling of the airline's new Business Class, happening on the same day. The new QSuite concept will be retrofitted on to the existing Qatar Airways fleet starting from June 2017, at an estimated rate of one aircraft a month.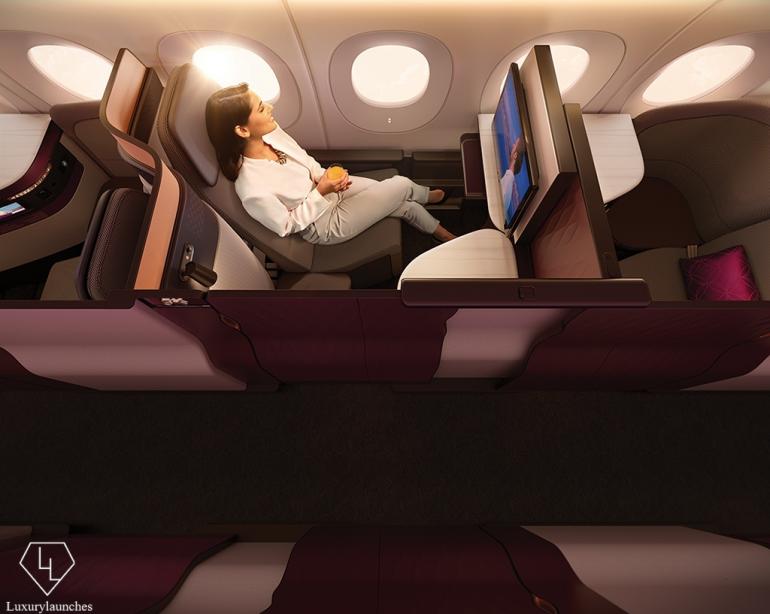 The lavish unveiling ceremony was attended by international media and guests of honor, including the Mayor of Berlin, Mr. Michael Müller and the Qatari Ambassador to Germany, His Excellency Sheikh Saoud Bin Abdulrahman Al-Thani. Everyone celebrated the launch of this groundbreaking new seat design, created over a period of 2 years.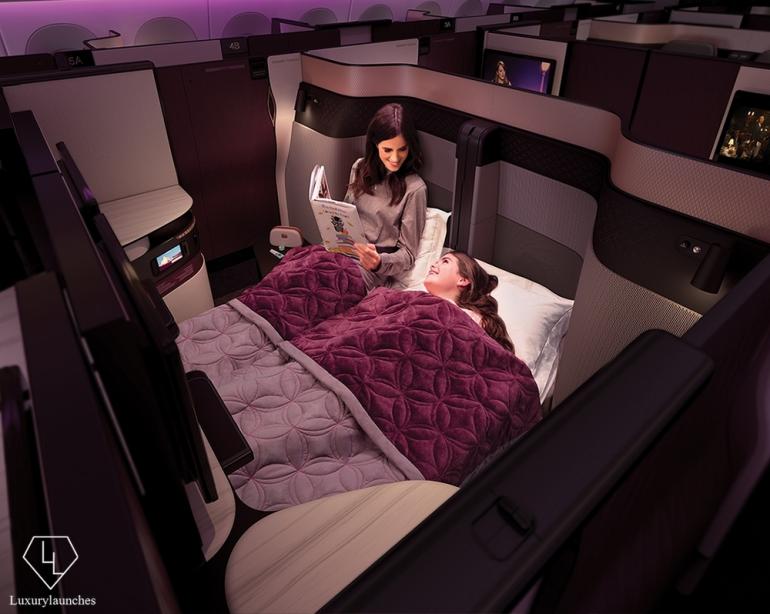 Each seat is crafted with thoughtful and luxurious details such as hand-stitched Italian leather and satin rose gold finishing, bringing an unprecedented level of luxury, privacy, and style to Qatar Airways' Business Class offering. QSuite features the industry's first-ever double bed available in Business Class, with privacy panels that stow away, allowing passengers in adjoining seats to create their own private room.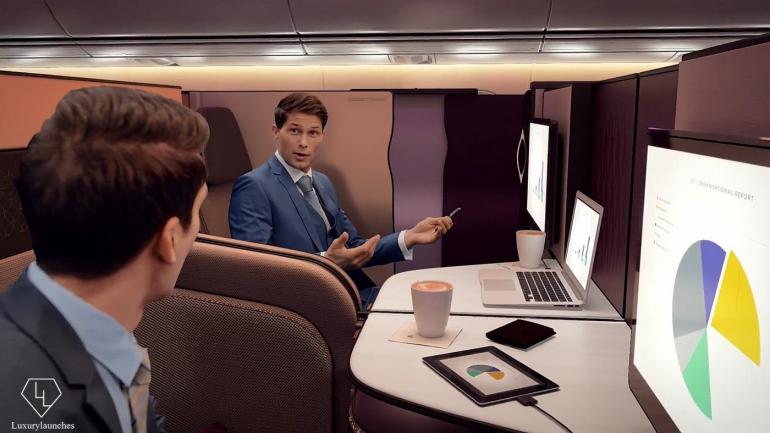 Adjustable panels and movable TV monitors on the center four seats allow colleagues, friends or families traveling together to transform their space into a private suite, allowing them to work, dine and socialize together. These new features provide the ultimate customizable travel experience that enables passengers to create an environment that suits their own unique needs.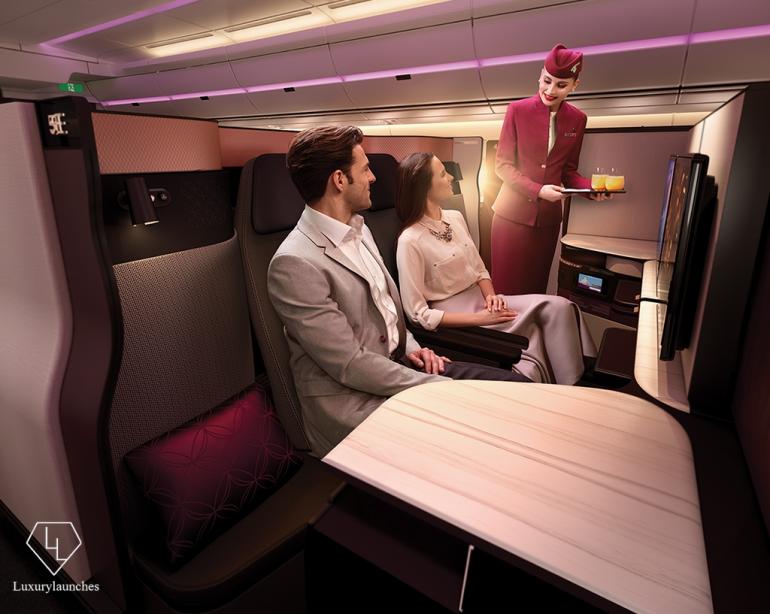 In addition to the existing decadent 'dine on demand' service, the new Business Class menu will now offer a selection of snack 'sharing dishes' available throughout the flight, allowing travelers to turn dining at 35,000 feet into a social experience. A wake-up Express Breakfast will also be available for those who choose to sleep a little longer by making the most of the 'Do Not Disturb' option available on the door of their private QSuite.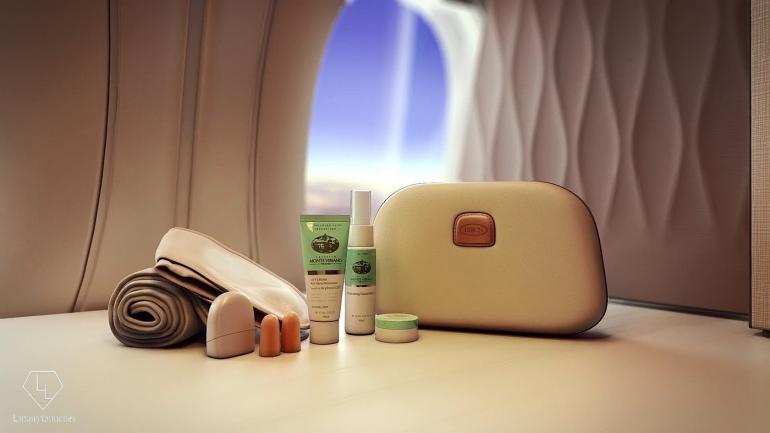 The recently announced partnership with The White Company to provide exclusively-designed cotton Business Class sleeper suits and luggage brand BRIC'S to provide bespoke new amenity kits featuring products from Italy's Castello Monte Vibiano Vecchio complete the refreshed and enhanced experience awaiting Qatar Airways' Business Class passengers on board.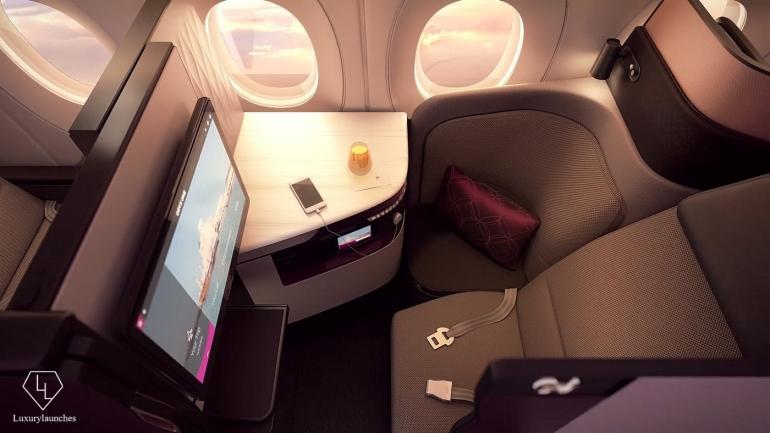 Qatar Airways also launched a completely new next-generation user interface of Oryx One, its award-winning inflight entertainment platform. Oryx One's interface has been redesigned to make it even easier to surf content and choose from up to 3,000 entertainment options – the most of any airline. The next-generation user interface has evolved from the rapidly maturing online media sector, presenting movies, games and a special children's menu in a format that is immediately familiar yet revolutionary for onboard passengers.
In 20 years, Qatar Airways has built a modern fleet of 194 aircraft flying to more than 150 key business and leisure destinations across six continents. The airline was awarded the World's Best Business Class by Skytrax in 2016 and was recently honored with five stars for its home and hub, Hamad International Airport.
Visitors to the exhibition are invited to relax in the new Business Class cabin while sampling the hospitality offered by Qatar Airways at the airline's booths 207 and 208 in Hall 2.2, home for the airline at this year's exhibition.
Geoffrey Ravoire
Founder of UNITIATE, Geoffrey is a Marketing Expert, Luxury Specialist and Hospitality Enthusiast. Wherever he goes, his early career and personal interests have always helped him nurture and cultivate a passion for the Travel and Leisure industries. French born, Geoffrey has accumulated an extensive experience abroad, thanks to regular visits to foreign countries but also thanks to years of expatriation. Currently based in Chicago, Geoffrey has already lived and worked in New York, Shanghai, Singapore and Monaco. You can meet Geoffrey on Twitter and Linkedin.