When it comes to bucket lists the city of lights makes it to the top of our lists. Last year a whopping 18 million tourists visited the city and why not the city has just so much to offer and above all a very few places in the world come close to the Parisian charm. But like most cities Paris has its own to-do list and a not to do list, Christopher Chandler tells the things you should absolutely not do on your trip to Paris.

Don't go see the Mona Lisa – Do you really need to see the Mona Lisa? Did you know you are only allowed about 8 feet from it? Do you want to fight and sift through humanity for ~25–30 minutes just to get a picture of it? Here's what you can expect:

And looking the other direction toward the Mona Lisa:

It's incredibly stupid and claustrophobic…
However, DO go to the Louvre. Map out where you would like to go, and what you would like to see. This is a MASSIVE museum, and chances are you will not see everything.
Don't bother with taxis – Tourist buses might be your thing, but I found discovering the city on your own is so much more enjoyable. Learn the Metro; it's not that hard. And, try walking as much as you can. A lot of the charm you'll find in Paris has much more to do with things that are not tourist traps/destinations.
Don't get scammed – You're not the first tourist to walk into this city, and chances are you stand out. Trust me. You may have practiced your French, but you will walk up to someone, and before opening your mouth they will say "Hello" in clear English. Scams to watch out for:
Bracelet scam – I ran into these guys at the foot of the Sacré Cœur. They are aggressive. They will follow you. They will grab at you. They will force a bracelet on you and demand payment.
The signature scam – They just need a signature, and they give you these sad eyes… Then they completely change when they're demanding you donate 20 Euros… I had to give a girl some money just to leave me alone.
Food & drink near the Eifel Tower – Guys will go around trying to sell you bottles of wine for 20 Euros. You'll tell them "no" and then it will all of a sudden be 12 Euro. These bottles cost about 1–2 Euros in the store. Bring your own picnic for 20 Euros, and find a patch of grass to relax.

The shell game scam – Do you really think this is legit? You will lose your money! And, the guy/girl that won right before you…? They're in on it, stupid! Why else would they BOTH be pressuring you to wager 20 Euros?

*Had to google image the scam pictures
Don't wait in lines – unless you really want to see a particular thing. Again, I agree with Sophie here. Walk along the Seine river behind Notre Dame. Find a way to skip the line at the Louvre. There are websites and groups which offer tickets to avoid waiting in the big 2-hour line. Don't wait forever to get to the top of the Tower; the best pictures are from down & around the Tower anyway.
DO walk – through the cemeteries, go past Moulin Rouge, and try to see one/some of the many parks. It's very calming after being huddled with tourists everywhere. The cemeteries might seem "creepy", but they're really fascinating. There is also a Farmer's Market that moves around the city on different days. I found these enjoyable 🙂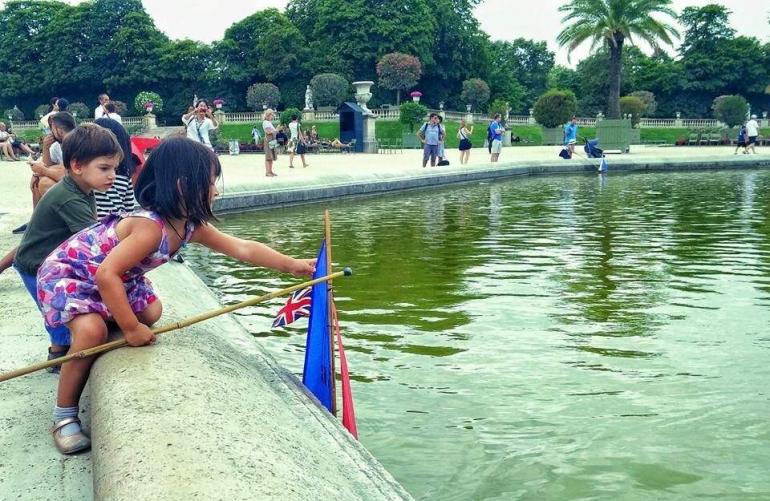 *Float a boat in Luxembourg Gardens!
Don't speak ZERO French – I knew no French before I arrived. But it's not impossible to learn greetings and phrases. In the touristy areas, they will speak English well enough to communicate, but don't expect it. If a French person came to your country and expected you to know French, would that not be insulting? I found that as long as you give it a sincere effort, most all Parisians are helpful & accomodating. *When you're not in a touristy area, English is spoken less commonly, so don't get used to everyone speaking English.
My recommendation is to have a small piece of paper or a notecard with standard words/phrases. Write down numbers, Hello, Goodbye, Thank you etc. Next, write the translation. That way, if you're pronouncing it poorly (you will be pronouncing it poorly, by the way) you can just point to it. I also used an app that would pronounce the words in French, and then I would write it phonetically to help myself pronounce it better.
Don't eat in the touristy areas – Find small markets if you can, get some cheese, wine, fruit, meat & bread, then picnic. It will save you some money, and it's a nice way to keep from over-eating a huge meal which can slow you down. Research restaurants worth visiting, and if you have to go out of the way, it's probably worth it.

Cost 14 Euro for all of this, and it was more than enough.
Don't be too offended by cigarette smoke – A lot of people smoke there. Maybe this was just my experience, but in the restaurant fronts, walking down the street, standing around just about anywhere, people were smoking.
Don't be a pain in the ass – You're a representative of your country. Don't be a jerk! You're in THEIR home, and you should act accordingly. That being said…
Don't be overly nice – It kind of annoys French people. You don't have to say "thank you" 12 times, or act excitedly about a simple/mundane conversation. Just be polite, and carry on about your business.
Don't talk about the terror attacks – Mind your own business.
Don't forget to remember – This is a city full of people trying to get to work, on their way to a business meeting or just going about their daily life. You're in the way.
And it's not just the locals; you're in the way of other tourists. Be a little bit more aware of the fact there are a lot of people trying to take pictures, and especially by the different tourist attractions. Make a conscious effort to stay out of the way of their pictures and offer to take pictures for them 🙂
For more responses head to Quora.
Quora answers is our weekly feature in which we pick first hand experiences and interesting opinions from the Q&A site.