Long-haul flights can leave you with jet lag and aches in almost every part of your body unless you travel a comfortable business class that can offer the most extravagant experience on a smooth journey. Airline companies put in a lot of effort for best-in-class service, including a personal chauffer, in-flight spa treatments, sleeping suites, and multi-course extravagant meals. However, giving an ultimate luxury experience above 35,000 feet is not an easy join. We have already rolled out our list of 10 best first-class cabins to fly in. Here is a list of the top ten airlines to fly a business class that ensures travelers experience unparalleled comfort.

10) Turkish Airlines

Turkish Airlines is a rising business-class feature airline that aims to provide relaxing and enjoyable on-board time. Besides the comfortable seats and apt in-flight entertainment, Turkish Airways provide an onboard chef offering examples of world cuisine and a wide variety of Turkish dishes. The Business Class seat includes an ottoman that creates a 75 inch (188 cm) long sleeping space in the fully-reclined bed position. It also features a Business Class Lounge providing phone, fax, TV, music, unlimited catering, local and international publications.
9) Thai Airways

Thai Airways feature state-of-the-art seats and offer 'Chef on call' service; through this service, you can request special menus in advance on most long-haul flights. Royal Silk Class passengers enjoy segregated cabins, with two-abreast seating. On long-haul flights, newly installed shell seats offer 60 inches (five feet) of stretch-out space, with 170 degrees of recline for sleeping. Passengers receive Bulgari toiletry kits and have a choice of 22 entrées, which can be pre-ordered.
8) Virgin Atlantic

Virgin Atlantic's upper-class seats are one of the best in business. They are 22" wide and turn into a 33" wide, 6'6" long. Each suite has a 12.1-inch touchscreen monitor with a touchscreen handset loaded with JAM's new entertainment system. The famous Virgin Atlantic onboard cocktail lounge has been redesigned for more privacy.
7) Qatar Airways

Qatar Airways offer ottoman, recline sleep for ultimate comfort in their Business Class cabin. The airline offers one of the most extensive ten-course meal menus, including caviar, lobster, Arabic mezze, and fine chocolate. With a wide variety of fine wines and champagnes, passengers can enjoy designer sleeper suits and luxury Italian Frette linen.
6) Korean Air

Korean Air provides the first-class comfort with award-winning inflight meals in the business class. Its Prestige class offers a 180-degree full flat 21.6ins wide seat with 74ins space between seats. With one of the most comfortable business class seats in the industry, you can also enjoy premium meals and selected wines on board.
5) British Airways

British Airways provides various business class options on different flight routes with lounge access, delicious meals and drinks, extra space to work or relax, and fully flat beds on all long-haul flights. The Club World Business Class and the Club Europe Class provide comfortable flatbeds with privacy screens, an inbuilt power supply for gadgets, a locker for personal stuff, a selected food and wine menu, and an array of Club Kitchen snacks.
4) Etihad Airways

Etihad Airways boasts comfortable seats shaped like a cocoon shell with adjustable mood lighting. The award-winning Pearl business class provides a privacy shell with a 6 ft 1-inch fully flat bed and direct aisle access from every seat. With Etihad Airways, you can enjoy an extensive á la carte range or our Anytime Kitchen menu, with boutique wines handpicked from the world's best vineyards. They also have an onboard Food and Beverage manager, an onboard fine dining expert, that will help you find the right dish to suit your mood and the perfect accompaniment for your meal.
3) Emirates Airlines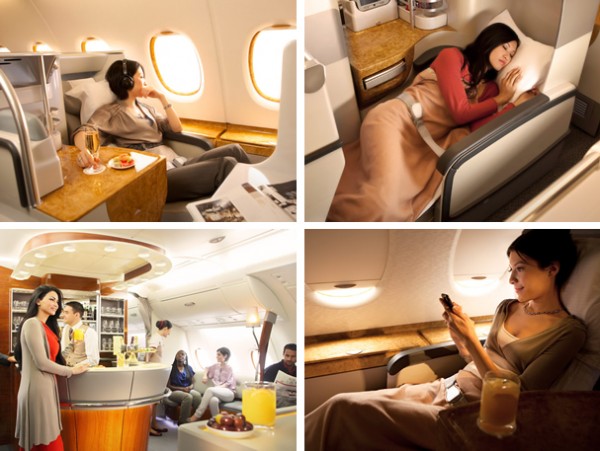 Emirates Airlines provides a luxurious and rejuvenating Business Class experience. Lie-flat Business Class seats are available on all Emirates A380 aircraft and most Boeing 777 aircraft. Along with one of the most comfortable seats, the airline also offers a large-screen personal entertainment system and a built-in mini-bar in every seat, personal storage area, and privacy divider. The airline also includes onboard lounges are a special treat aboard Emirates, allowing fellow travelers to socialize or stretch their legs. Emirates is one of the few airlines that provide' OnAir Wi-Fi service lets you connect to the internet while in flight. With over 1400 entertainment channels with exquisite food, Emirates is a pleasurable experience.
[Emirates]
2) Cathay Pacific Airways

Cathay Pacific Airways is the winner of the World's Best Business Class by Skytrax 2012 survey. The newly designed business class features a comfortable wider seat, a flatbed option, and a cabinet divider. The business class seats also offer a side cabinet to store personal stuff and a 15.5-inch personal HD that can also be hooked to an iPad or iPhone via in-seat USB ports. Apart from the regular multi-cuisine menu, the flights also have skillets and rice cookers so that business class passengers can get made to order eggs and rice dishes. For long-haul flights, the flyers can also avail of amenity kits like Acca Kappa products and Ermenegildo Zegna travel bags.
1) Singapore Airways

Singapore Airways provides the ultimate onboard luxury Business Class experience. Each seat unfolds to reveal the largest full-flat bed in business class, with an easy-access multi-port with a power supply and USB ports. It also has a Book the Cook" service, which allows preflight ordering from an extensive menu. Besides, you can also enjoy a wide range of over 60 diverse dishes, served in contemporary designer tableware from Givenchy. It also includes a snack corner, where passengers can relax and socialize on long-haul flights.