Tucked into my seat, I am among those passengers who wait to collect the little amenity kits with their cute-as-a-button toothbrush, some nice smelling soap and some eau de toilette. Things are a little different when flying premium. With the advent of larger seats, private suites, shower on board and other first-class luxuries, the amenity kit got its very own designer overhaul and have become a much sought-after bag of luxury goodies. Comfort with a touch of pampering, while passenger look and feel their best thanks to some of the finest names in the business; we look at some of the best amenity kits in first-class today, as compiled by Afar.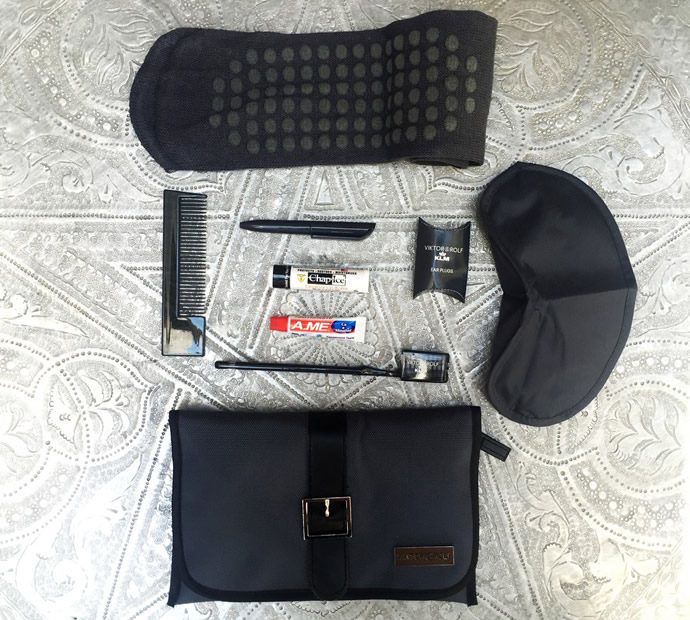 KLM Royal Dutch Airlines:
The Dutch airline's contemporary, all-black amenity kits have been designed by Amsterdam's top design teams, Viktor and Rolf, who design a new amenity bag for the airline every year. The bag, which double as a small handbag after a flight, feature a fold-over zip-top design and a strap on the side for easy carrying. The contents of the bags are basic and include regular essentials like a ballpoint pen, chapstick, toothbrush and cozy socks. At the end of the flight, passengers also get one of KLM's collectible Delft Blue Houses filled with Dutch gin.


JetBlue:
JetBlue's new premium seating class has gone all out with their amenity kits, partnering with Birchbox. Mint, the premium-seating category passengers will now be handed a box, made of cardboard with a small cloth pouch inside, filled with delightful goodies including a Benefit mascara, Supergoop! hand cream, Klorane Smoothing and Relaxing Eye Patches, Baxter pomade and Jack Black lip balm, for women. The male kits contain a Lab Series overnight face serum, Coola's after-sun lotion, Baxter of California Hard Cream, Ernest Supplies shaving cream, Jack Black lip balm and a Laundress Wash and Stain Bar. The contents change periodically, just like actual Birchbox subscriptions. Talk about doing it right!


Swiss International Air Lines:
First class passengers aboard Swiss are gifted with a Bally-designed bag filled with all your luxury goodies by luxury beauty brand La Prairie. The La Prairie products include Cellular Time Release Moisturizer, an eye contour cream, a hand cream and a moisturizing lip balm. Other items include complimentary cotton pajamas by Zimmerli to get you comfortable and essentials including toothbrush, ear plugs, eye mask and socks!


Turkish Airlines:
On board Turkish Airlines, first-class passengers will get a taste of Porsche, with a Porsche Design hard case filled with Italian skincare company Acca Kappa's "Green Mandarin" line. This hard shell case marks the first time that Porsche Design has allowed its brand to be applied to any in-flight amenity kit.
The bag, not so coincidentally, has been designed to ensure post-flight use, to carry your iPad or computer and mobile phone accessories.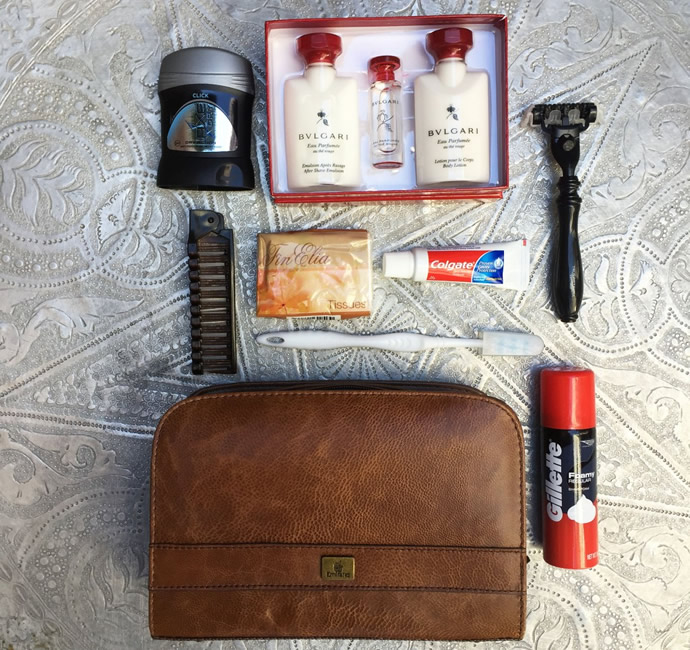 Emirates:
The Bulgari-designed pouch for both men and women come loaded with goodies that are meant to last long after your flight has landed. The Emirates' first class (and business) amenity kits for men feature an Italian leather bag while women get a suede-style brown pouch. The bags come filled with Bulgari products including their moisturizer and perfume, face lotion as well as super-soft pajamas. Women also get a Bulgari travel mirror and Bulgari Face Emulsion while the men take home a Bulgari aftershave emulsion and a Taylor's of Old Bond Street reusable razor.


Virgin Atlantic:
Upper Class passengers on Virgin Atlantic can expect to take home a unique amenity kit, made from completely sustainable materials, without losing its first-class sheen. The black silk-lined carrier made from rPET, a sustainable material made from crushed plastic bottles, with a leather-like strap can be reused as a tech case post flight. The fabric is dark grey with a black cherry silk lining and includes all your travel essentials including cosy socks, eyeshades, toothbrush and paste. On inbound flights, the kit takes the form of a travel wallet.


Air France:
Onboard Air France's La Première class, passengers get a leather amenity kit designed by luxury French design house Givenchy. Inside each bag, passengers get a selection of Biologique Recherche products, including face cream and a roll-on ointment for the eyes – so you touch down looking refreshed and pretty, a selection of Givenchy toiletries, as well as an Oshibori towel. La Première suites are kitted out with merino wool blankets, and travelers are also given cotton sleep suits.
[Afar]