London's cobbled streets are lined with some of the world's top fashions, from quirky and eclectic vintage shops to high-end luxury boutiques. Known as one of the fashion capitals of the world, London is a haven for fashionistas looking to shop up a storm. Next time you're in London, strap on your Manolo Blahnicks and check out the ultimate shopping districts the city has to offer.



Saville Row
Renowned the world over for its premium tailoring, Saville Row is the place to buy a suit. Bespoke tailors on the pretty, Georgian street have been dressing royalty and celebrities for hundreds of years. Saville Row boasts some of the world's best tailors. Of note is Gieves & Hawkes, whose tailoring business holds three royal warrants and has dressed celebrities including Charlie Chaplin and Sean Connery and royalty including the Duke of Cambridge. If you want to wear something quintessentially British, as well as being completely unique, then booking an appointment with a Saville Row tailor is a must.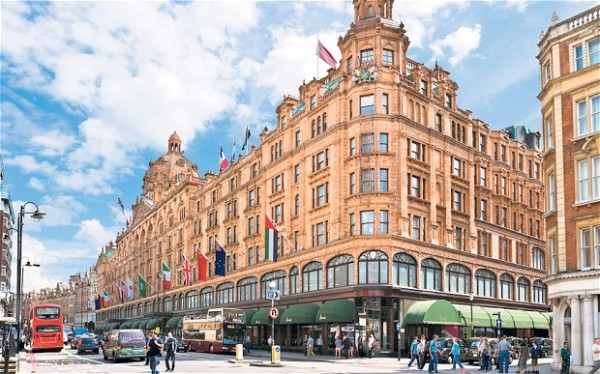 Knightsbridge
Home of luxury department stores Harrods and Harvey Nichols, Knightsbridge is one of London's most exclusive districts. If you're looking for a luxury shopping experience, then Harrods is certainly top of the list. Its opulent gold escalators and Egyptian-inspired interiors are the perfect accompaniment to designer fashions and high-end home products on display. For a decadent treat, Harrod's food hall is beyond comparison, hosting various delectable delights, from sushi and caviar to premium streak and delicious food baskets. Further along, the exclusive street is Harvey Nichols, whose white and silver interior holds an assortment of unique and bespoke products. Although Harvey Nichols has luxury outlets in Dubai and Hong Kong, its flagship store in Knightsbridge is still the pinnacle of exclusive shopping.

Oxford Street
Shopping in London is always associated with the famous Oxford Street. Despite being Europe's busiest shopping street with over 300 shops, it also features some of the city's most exclusive boutiques. While the main stretch includes well-known high street brands, the side streets are a haven for those looking for high-end fashion and premium products. The exclusive side roads of Bond Street, Park Lane, and Regent Street intersect Oxford Road various points and contain a selection of the world's top designers as well as some of the city's top hotels, including The Dorchester. Park Lane also features showrooms from some of the world's most expensive car brands if your shopping interests are of the vehicular variety.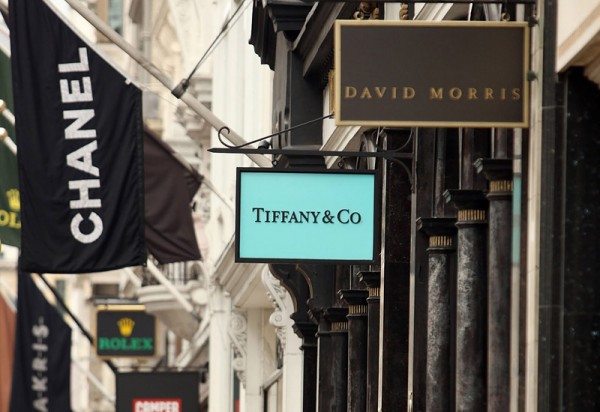 Bond Street
Known as one of the most expensive pieces of real estate in the world, Bond Street is the ultimate in luxury shopping in London. Founded in the 18th Century, Bond Street features designer boutiques, including premium leather goods boutique Smythson and Armani, Louis Vuitton, and Hermes. Alongside its designer boutiques, Bond Street also hosts the largest concentration of high-end jewelers in the world, including Tiffany & Co. On what is known as Old Bond Street, the Royal Arcade features many independent and bespoke retailers selling luxury goods, including Rolex watches.

Westfield London
Bordering the suburbs of Hammersmith and Shepherds Bush is the sizeable Westfield shopping center, one of Europe's biggest shopping centers. As well as housing an endless variety of high street stores, Westfield London also features The Village, an exclusive, luxury arena which includes designer boutiques and high-end shops such as Gucci, Christian Dior, Jimmy Choo and Louis Vuitton. However, the Village isn't just about shopping; offering a wide variety of services, including chauffeur-driven cars and personal stylists to help you shop.

Covent Garden
The center of the theatre district also boasts one of the most eclectic shopping areas of London. Designer boutiques, such as Burberry, Betsey Johnson and Chanel sit alongside luxury spas including The Sanctuary. Covent Garden is famous for its markets and is often associated with flower seller Eliza Doolittle from My Fair Lady. Covent Garden also features several restaurants and bars known for their entertainment and culture and is ideal for unwinding after a busy day shopping.

Sloane Street
With a similar profile to Bond Street, Sloane Street features flagship stores for the world's most famous designer brands. Located near Knightsbridge, shoppers can choose from boutiques including Escada, Missoni, Dior, and Jimmy Choo. Sloane Street became famous for the term "Sloane Rangers," named for the upper-class women shopping its streets, including the late Princess Diana.
London is a vibrant and bustling city with various luxury boutiques and retailers featuring some of the world's most exclusive products. Wherever you find yourself in the city, you're sure to be only a few meters from a premium shopping destination.
Author bio:
London lover Sarah Murray works for Appliances Online. When she's not strolling the streets looking for luxury fashion, she enjoys lusting over fashion magazines and window shopping online.