After their recent survey ranking the top 10 places to visit in 2016, Trip Advisor now reveals the world's Top 10 best islands. For those looking to enjoy some sun, surf, and sand or if hiking mountains and rafting ravines is your thing; I'm sure this list will help you plan your next island. Enjoy the best of pristine beaches and secluded coves, trek jungles and jump waterfalls, or explore stone villages and music festivals – the islands have all these to offer and more.

Here's Trip Advsior's countdown to the Top 10 Best Islands with Travelers' Choice Awards.

10. Fernando de Noronha, Brazil – The archipelago of Fernando de Noronha is an eco wonderland and has some of the most spectacular beaches in all of Brazil. The island's warm emerald waters are teeming with dolphins and turtles and the common opinion is that the sharks here… are actually quite friendly! No wonder then that this is one of the world's top diving destinations. If you are more of a land person, hike the ecological trails of Jardim Elizabeth, the Esmerelda Coast or walk the route to Baia do Sancho, which involves negotiating two ladders on a sheer cliff-face.

9. Bora Bora, Society islands – A honeymooner's paradise and an island so nice they named it twice. Turquoise lagoons, powder-white sand beaches, and deep tangerine sunsets set the scene for romance while you stroll beneath swaying palm trees. Snorkel the Coral Gardens or Tupitipiti Point and swim with tropical fish and turtles; engage in shark feeding at the Lagoonarium, or drive up to the highest point in Bora Bora — Mount Otemanu to take in the beautiful views.

8. Phuket, Thailand – Home to many resorts, spas and restaurants this island is teeming with activity day and night. Considered the most popular tourist island in all of Thailand, this mountainous island thriving with coral reefs, rainforests and long white sandy beaches attracts tourists from all over the world. More so as it's relatively inexpensive and is one of the most popular destinations for learning to dive.

7. Mauritius, Africa – Think Africa and you conjure visions of dry plains and harsh conditions. Mauritius on the other hand is Africa's paradise. East of Madagascar, this lush island is more than just white sands. Surrounded by a huge reef (need I mention teeming with coral & tropical fish), shallow lagoons, sugarcane plains, waterfalls, forests of ebony and eucalyptus, and of course its many historic sights; Mauritius is the perfect mix of adventure and relaxation. The resorts here are world class and the spas just heavenly.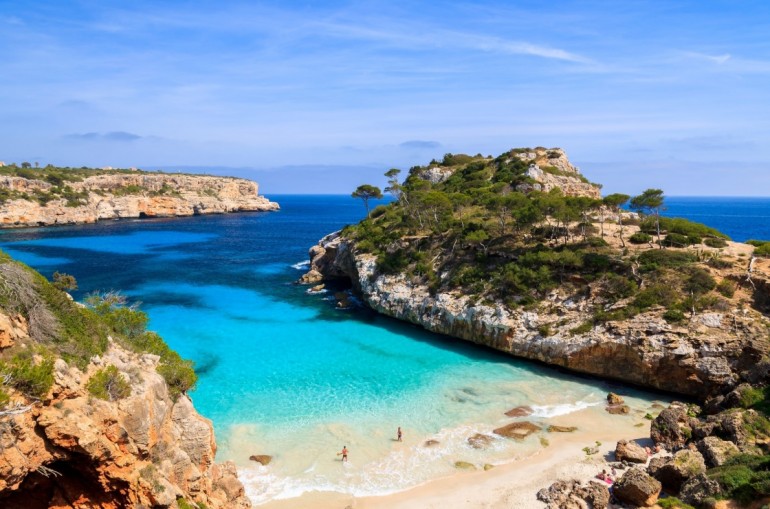 6. Majorca, Balearic islands – Majorca or Mallorca is known for its beach resorts and sheltered coves, limestone mountains and Roman and Moorish remains. There really is something for everyone here – lively beach resorts, quiet traditional towns, Gothic cathedrals, and pretty beaches. Hip and arty Palma is the capital of the Balearic Islands and is centered around an enchanting bay offering a maritime atmosphere. To the west of Palma, Cala Mayor boasts a Blue Flag beach with clear and warm waters and is also the summer residence of Spain's royal family who are often seen walking along the streets when shopping or dining out.

5. Bali, Indonesia – My personal favorite. Bali is a treasure trove with lush green jungles, paddy fields, rice terraces, cascading waterfalls, beaches and more. Surf the beaches of Uluwatu ranked number four in the world for surfers and visit the Uluwatu temple perched atop a cliff to take in the gorgeous views of the rugged cliffs & coastline. For a more relaxed time, head to Ubud the center of culture and art. The surrounding Ubud District's rainforest and terraced rice paddies, dotted with Hindu temples and shrines, are among Bali's most iconic landscapes. For the more adventurous, Ubud has some great white water rafting and hiking trails.

4. Providenciales, Turks and Caicos – Another top beach destination, the island is lined with exquisite beaches that are truly world famous. This is an island where people can perfect the art of doing nothing. However, if you do want to do something then sailing, scuba diving, parasailing, kite boarding, kayaking, etc. are all on offer. The protective barrier reef which surrounds Providenciales offers some of the best scuba experiences in the world. The vibrant turquoise water and many tiny rocky cays of the Chalk Sound National Park is the top recommended sight to see.

3. Jamaica – Imagine yourself with a cup of coffee (or beer perhaps), sitting on beach and looking at the brilliant blue Caribbean Sea while listening to almost everyone singing a Bob Marley tune… this is life on the idyllic island everyday. Known for its strong sense of self identity expressed through its music, food and rich culture, Jamaica is the ideal vacation spot for those looking to sit back, relax and have some fun. For the adventure enthusiasts, Jamaica's forests feature prime hiking and bird watching.

2. Santorini, Cyclades – A picture postcard destination; Santorini's beauty cannot be described. Best viewed from the deck of your approaching ferry, you will notice tiers of white houses clinging the immense cliffs of dark volcanic rock and towering above the deep blue sea. White-washed houses, blue domes atop churches, warm weather, good beaches and brilliant sunshine makes this an idyllic place to spend some time. Oia is the most famous village in all of Santorini and is famous throughout the world for its quiet life and gorgeous golden sunsets. Hike the caldera or visit the archeological ruins at Akrotiri and the black sand beaches of Perissa for a truly unforgettable experience.

1. Maui, Hawaii – Taking the number one spot is Maui, Hawaii. THE destination for nature lovers and adventure seekers. Nicknamed "The Valley Isle," due to the great valley that lies between its two major volcanoes, Maui is known for its stunning natural beauty. Beach lovers can soak up the sun on the sparkling sands of Kaʻanapali Beach while surfers can surf the strong waves at Peʻahi. Walk the streets of Lahaina town and cool down in the shade under one of the largest banyan trees in the United States. Drive by Maui's scenic road to Hana where on your left will be the azure blue ocean; and on your right, rushing waterfalls, limpid pools, and luxuriant jungles of bamboo and fruit trees.
[ Tripadvisor ]