While we typically think of public toilets as often unattended and unhygienic, here are some visually aesthetic designs that are nothing short of architectural excellence. They can be found anywhere from the streets to the hiking trail. So, put the humble seat down as Luxurylaunches brings out our list of Top 10 Most Beautiful Public Toilets in the World.

10. Orange Outhouses, Tel Aviv, Israel


These orange shaped washrooms are on the street in Tel Aviv, Israel. These vibrant domes add a splash on color in the second most populous city. Also known as the city that never sleeps, these public toilets are a perfect place to pop in for a bathroom break.
9. Public Toilet, Gdansk, Poland


The Schleifer & Milczanowski Architekci firm has designed this public convenience unit for Gdansk within the historic centre of gdansk, Poland. With the cylindrical exterior resembling a raindrop, the infrastructure celebrates the aesthetic of archaeological heritage.
8. Hiroshima Park Restrooms, Japan


Japanese architects Future Studio in Hiroshima have designed the units to resemble origami cranes. The 17 restrooms come in three different shapes, but each one has a different color. The acute angle of the roof, acrylic lighting windows and ventilation holes in the walls are inlayed.
7. Public Toilets, Uster, Switzerland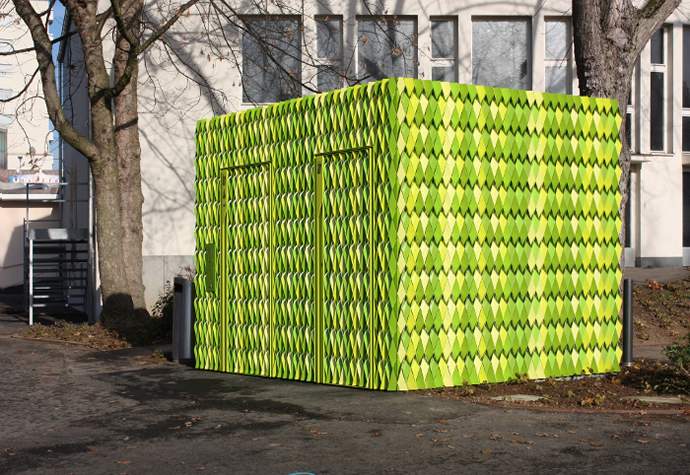 Architects Gramazio & Kohler has created the cabin resembling like reptile scales. Creating a prism like effect, the 300-folded aluminum strips in the variations of green looks different in sunlight from every angle.
6. Lady Bird Lake Trail Restroom, Texas


The Lady Bird Lake Hike and Bike Trail is a linear park of scenic trails and landscaping that follows the banks of the Colorado River in downtown Austin. Very popular among runners and bike riders, the restroom was conceived as a sculpture in a park, a dynamic object along the active trails. The restroom is handicapped accessible and includes a drinking fountain and shower outside in addition to a commode, urinal, sink and bench inside.