Hanging out in an airport after you have herded through long security lines and dodged travelers at crowded gate areas can be hostile, especially after a long flight or delay. That is, unless you head to an airport lounge. Airline sponsored lounges located typically airside or near gates, are the most coveted airport territory. The luxurious lounges let you work in peace, shower, relax at spa, sleep in day beds, drink premium alcohol, smoke Cuban cigars and eat some rather fine a la carte dining.

Here are top 5 premium airport lounges that promise vacation-like layover that you would never want to leave.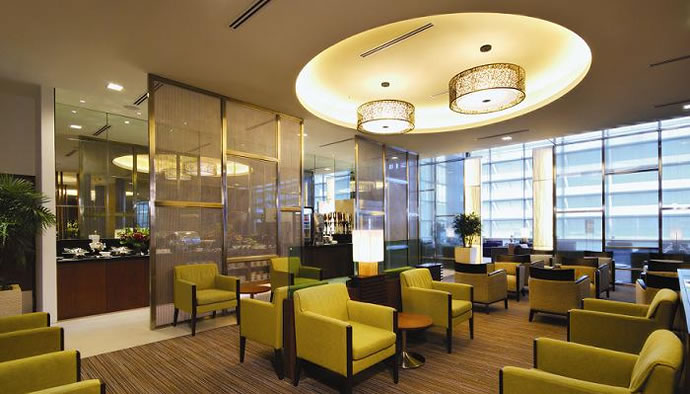 5. KrisFlyer Gold Lounge
Terminal 3, Singapore Changi Airport
Singapore Airlines KrisFlyer Gold Lounge is designed for Economy Class passengers. Guests have access to complimentary WIFI and internet workstations. While the lounge does not have access to showers or toilets but if you are a KrisFlyer Elite Gold or Star Alliance Gold travelling in business class then you avail facilities at the SilverKris Lounge.


Guests at KrisFlyer Gold Lounge can sample a variety of food and beverages from the self-service buffet and bar counters.

4. Virgin Atlantic JFK Clubhouse
Heathrow Airport, London
From the moment you walk in from the distinctive reception area, you will be transported into a world of graceful elegance, with cascading, shimmering golden ceilings of lighting, and soft, decadent textures. The lounge features the Clubhouse Spa to offer relaxing treatments and products from Dr. Hauschka and Bumble and Bumble to passengers. Too bad the spa is closed for morning flights but you can still retreat to some 'me' time at person sized round cavities and slip in complimentary pyjamas.


There are plenty of complimentary food choices as well as brasserie dining area. You can also accompany your meal with drinks from its cocktail bar. And how can we not mention the red ball sofa? The entertainment zone has some cool furniture where you can lie back, make friends and relax.

3. Etihad Diamond First Class Lounge
Abu Dhabi International Airport
First Class Lounge at Abu Dhabi International Airport offers guests a chance to work or relax before their flight. Guests can step into shower while their clothes are ironed and shoes polished. The world-renowned Six Senses Spa has a range of 15-minute relaxing treatments including facial renewal, foot detoxification, head-message while travelling.


The lounge offers some of the best facilities like Apple laptops, free broadband internet access, television screens, magazines, newspapers and books in its library. Guests can enjoy a glass of bubbly, boutique winer or their choice of finest beverages from an exclusive selection as well as take your pick of cigar.
Savor a meal in its world-class restaurant and choose from a wide spread of delectable cuisines, freshly prepared with the finest ingredients.

2. Finnair Lounge
Helsinki Airport
The Finnair Helsinki Lounge is infused with Finland and all things Finnish, from Eero Aarnio's "Ball Chairs" to blue and white tableware by Arabia. The lounge is open to members of Finnair Plus Platinum, Finnair Plus Gold, Finnair Plus Silver, Finnair Club as well as Business Class passengers.


While the showers and spas at the lounge have now been closed, guests have access to internet, computers, complimentary alcohol, buffet and salad bars.

1. Turkish Airlines CIP Lounge
Istanbul Ataturk Airport
Turkish Airlines, CIP Lounge has recently undergone renovation and expansion work, increasing the size by over 40% in order to meet the needs of growing passenger numbers. The new addition creates additional space and increases the capacity of the lounge to over 1000 guests. The existing facility, which included a children's playground, library, billiards area, prayer room and teleconference section, has seen an expansion of the rest and shower space as well as additional massage beds. The enhanced lounge combines both modern and traditional design, a space able to provide traditional Turkish hospitality in a setting that offers the most modern conveniences, such free Wi-Fi access through the lounge.


The spiral staircase connects the two sections of the lounge and its design represents the connectivity that Turkish Airlines provides to its global customer base. It incorporates a tea garden reminiscent of those found in Istanbul and provides an experience similar to places in the city where both residents and visitors can enjoy a Turkish tea and bagel.