By the time you are done reading this, you very well may be charged up to fly Virgin Atlantic seated in their newest Upper-Class suite. This mile-high luxurious suite is available on all of their A330 flights from London's Heathrow to New York's JFK and back. Virgin's new Upper-Class Suite features seating laid out in a herringbone layout. The seats with increased width are upholstered in cool expresso leather. The airline claims their flip-over seats that can convert into a bed is 87″ in length, which is more than any other airlines' business class bed. Each seat is placed near its own window, which allows for more light and space.

Other features Virgin Atlantic lay claim to include in-seat power, compatible with all kinds of outlets, a flip-down cocktail table, adjustable reading light, headphone jack, two ottoman for storage and a new literature pocket. The Upper Class suite is also equipped with AeroMobile system that allows passengers to make and receive cell phone calls in flight. For passengers wishing to wind down, Virgin Atlantic's A330 has a separate 2.5 meters onboard bar complete with stools and bar backlit in red which can easily seat up to 8 people.



Future plans for Virgin Atlantic include introducing this new seating on their Boeing Dreamliner aircraft and also adding more A330 routes with the Upper Class suites as and when their newer planes are delivered.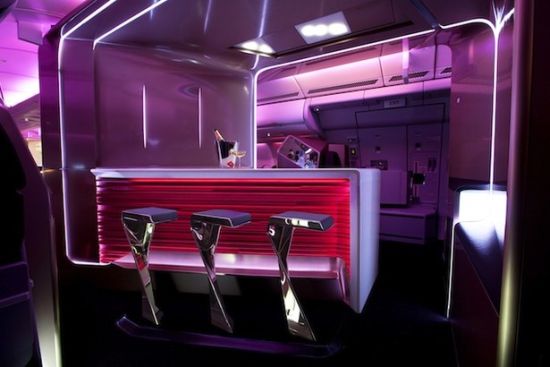 [Virgin Atlantic via Business Traveller]