Whisky connoisseurs and drinkers walking down the revamped Terminal 4 of London's Heathrow Airport are in for a treat as WDF has opened a new World of Whiskies store. The store was commissioned by WDF in partnership with William Grant & Sons, while Sheridan & Co-developed the store's new concept. Sheridan's new design concept for the store mixes the modern and traditional, juxtaposing a sleek, contemporary interior with a palette of seasoned materials associated with the whisky industry, such as oak and brass. The arched ceiling clad with oak reflects the inside of a whisky barrel. The high-tech store offers many rare, exclusive, and limited-edition whiskies. Some of the rare whiskies on display and for sale include The Bowmore 1965 retailing at £6,000 ($10,100), The Dalmore 40yo at £1,000 ($1,700), and one bottle of Glenfiddich 50 Year Old at £10,000 ($16,800).

A haven for whisky drinkers, on entering the store, the customers will be greeted by the 'Discover Your Taste' tasting bar where they can sit in comfort and sample various whiskies – assisted by the World of Whiskies expert staff. The process is given a hi-tech touch by RFID technology that displays information on LCD screens about the customer's whiskies. The new store features several 'zones' like "rare and vintage" corner, which offer different customer experience levels depending on the time they have available. The traditional product segmentation has also been changed to reflect lifestyle aspects and the origin of each whisky.
The theme is chosen for this store, 'discovering whisky' was then applied to the many facets of whiskey, from its history and production to choosing the right whiskies for specific occasions.
The beautifully designed store has something for everyone and is nothing short of a heaven for the whisky novice.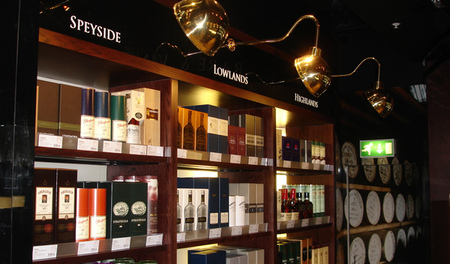 [MoodieReport.]