This story begins an age ago in 1846 in Le Locle when 23 years old Ulysse Nardin put down the foundations for a company that is still bringing his watchmaking excellence to modern generations. Nardin built his company on the cornerstone of pocket and marine chronometers which set benchmarks in both military and civil realms. IN the years since Ulysse Nardin has cemented its status as an industry forerunner and has been honored with 4,300 watchmaking awards, including 18 gold medals. With deep roots in the seafaring tradition, the brand continues a pioneering journey filled with cutting edge timepieces that are contemporary, iconic and stylish.


The brand has preserved this spirit of boldness and innovation in their new Executive Skeleton Tourbillon which is one of the most beautiful timepieces we've seen from Ulysse Nardin. Despite having a 45 mm diameter case, this timepiece is ultra-light and feels like a feather on the wrist. But the watch does not favor lightness over sturdiness and functionality, its round titanium case features a ceramic bezel and is water-resistant to an impressive 30 meters. The case with its transparent front and back allows an almost perfectly unobstructed view of the heart which vibrates at 2.5 Hz. With a power reserve of a staggering 170 hours, the manually wound UN- 171 Manufacture movement along with the tourbillon made from silicium is built for endurance and accuracy and the hollowed-out skeleton style of the watch allows for form and function to blend into one unique design.
The watch's oversized Roman numerals and hour markers as well as the sword-shaped hands seem to float over the mechanics while the black color allows the watch to feel both timeless and contemporary. The Executive Skeleton Tourbillon combines technical complexity with a sleek and modern design to create a watch that stays true to Ulysse Nardin's inventiveness and creativity.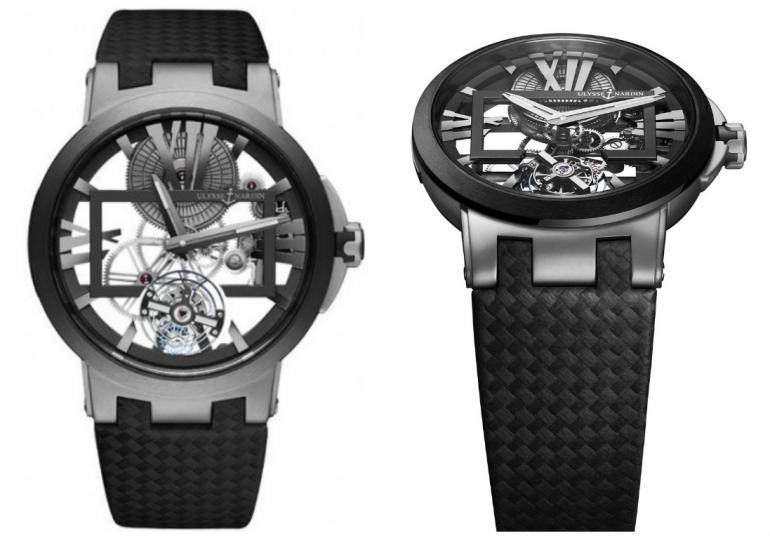 Adding to the lightness and versatility is a carbon fiber style strap that's secured to the case by three distinctive claws and can be fastened to the wrist using a folding titanium clasp.


For a brand that was born out of a strict seafaring tradition, Ulysse Nardin constantly surprises us with their creative variety of timepieces that refused to be pinned down or labeled. Fittingly the Executive Skeleton Tourbillon is both athletic and urbane, at once ultramodern yet classic. Wearing this watch is not only about confidence and style, but also about a tradition almost 170 years long that lives on in every new timepiece from Ulysse Nardin. From his beginnings as an apprentice to his milestone creation of pocket chronometers that were calibrated by a high-precision astronomical regulator, Nardin's boldness characterizes every watch that emerges from his company even 140 years after his passing. Wearing the Executive Skeleton Tourbillon is being steeped in a rich history of fine workmanship and exemplary design. The watch is designed to be light on the wrist but it is fully capable of warring with other heavyweights in the industry until the next creation from Ulysse Nardin throws us for a loop all over again!