Swiss luxury watch manufacturer and the much-acclaimed British sports car manufacturer have seen partnership over a decade now. The two legends (in their own rights) have shared the stage presenting opulent luxury watches like The Rapide Transponder and others. Now in celebration of the 180th birthday of the Grande Maison and the Centennial of Aston Martin, Jaeger-LeCoultre, and Aston Martin has created three new exclusive watches!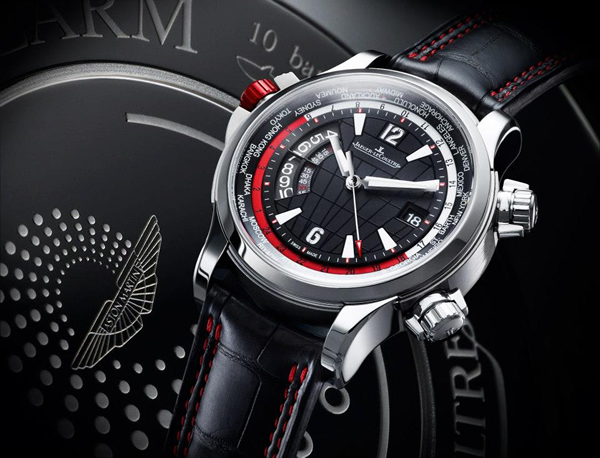 Master Compressor Extreme W-Alarm Aston Martin
The Master Compressor Extreme W-Alarm Aston Martin is a universal time-teller that allows you to read time at a glance. Flaunting a black and red palette, the watch displays a sporty look and feel. Its black dial has red and white indicators that resemble the vents on an Aston Marin. Powered by an automatic movement caliber 912, the watch has kept up with every bit of the Jaeger-LeCoultre and Aston Martin partnership legacy.

Master Hometime Aston Martin
The Master Hometime Aston Martin is a watch designed for travel enthusiasts. Displaying two time zones, the Hometime is a to-the-point watch that is sleek and stylish. The watch displays a 975H movement, and overall, it is an epitome of "values shared by the two brands: innovation, reliability, and performance."

AMVOX5 World Chronograph Cermet
We've seen earlier versions of this watch: AMVOX5 World Chronograph, AMVOX5 World Chronograph LMP1 and the AMVOX7, among others, each outdoing the other. Here again, the dynamic duo launches another version: the AMVOX5 World Chronograph Cermet that blends the iconic chronograph function with a display of 24 time zones at a time! Sporting a 752 caliber automatic, the watch is extremely lightweight and is ideal for racers. What completes the look is its black dial with red and white accents.

Jaeger-LeCoultre CEO Jérôme Lambert and Aston Martin CEO Ulrich Bez celebrating the 180th anniversary of the Grande Maison and the centenary of the legendary English carmaker at the Manufacture Jaeger-LeCoultre.
[Via – Jaeger-Lecoultre]