Connoisseurs of Vacheron Constantin Metiers d'Art Collection have a new reason to rejoice as the 3rd and final component- Metiers d'Art La Symbolique des Laques collection. This is Vacheron Constantin's third consecutive year of production for the collection, first two being Metiers d'Art 2010 edition and the Metiers d'Art Perspectives d'Art watch of 2011. The collection comprises three watch models composed of 18-carat gold, celebrating the three seasons of spring, autumn, and winter. The "Hanami" Watch standing for spring features cherry trees, pink hues, willow leaves, and the grace of burgeoning flowers. The "Tsukimi" Watch represents the autumn season and features all the elements in typical autumn. The "Yukimi" Watch exemplifies the chilly season of winter with solemn elements on the dial.

The Metiers d'Art- La Symbolique des Laques watches are driven by an ultra-flat 1003 caliber movement. It measures a mere 1.64 mm thick, making it the world's thinnest hand-wound movement. The sapphire crystals on either side of the watch make it possible to admire the exceptional finishes, including chamfering, straightgraining and engraving, all done by hand. Echoing Japanese culture, the sobriety of the round
case framing this exceptional movement and the two "maki-e" dials, reflects the Zen spirit of the
collection.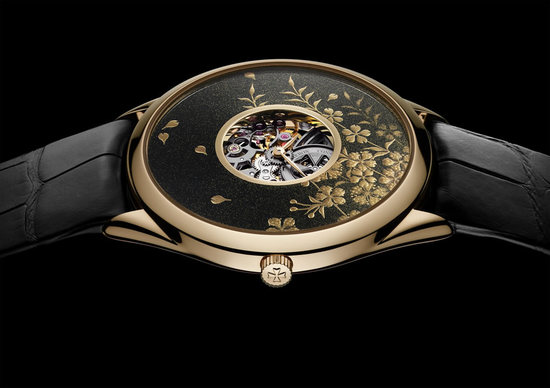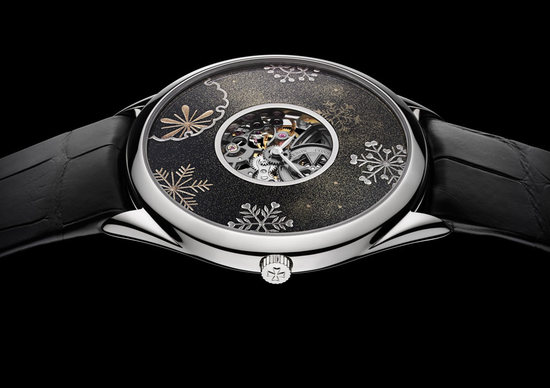 [Vacheron Constantin]