The stunning Sideralis Inverted double tourbillon watch by Louis Moinet is crafted to be a celestial in your wrist delight. The tourbillons rotate in opposite directions and sport a pair of raised cages that mount balance wheels. At 12 o'clock lies the Sideralis complication, which is powered by the twins and sequentially displays Mars, Mercury, the moon and some meteorites. Two representative discs make this possible. The top hand features a beautiful image of the universe. It takes a minute for the counter-clockwise rotation on this animation. The moon, Mercury and Mars are micro-painted on the lower rotating disc, which rotates at the same speed but in the opposite direction.



Jean-Marie Schaller, CEO of Louis Moinet explains, "These three bodies have not been chosen at random. Each of the micro-paintings includes genuine dust from the heavenly body in question: a fragment of Mars, moon dust, and extremely rare fragments of the Rosetta Stone, whose scientific name is Sahara 99555. This stone has travelled across the universe to reach us: it is the oldest known to mankind, believed by the scientific community to have come from Mercury and to be four and half billion years old. Fragments of meteorites from Mars, the Moon and Sahara 99555 also appear on the lower disc, positioned between the planets, floating in the cosmos, or included in a hand-painted shooting star."


Everything is housed in a 47.4 mm grey gold case. Only 28 versions of the watch will be produces, each selling for the equivalent of about $254,000.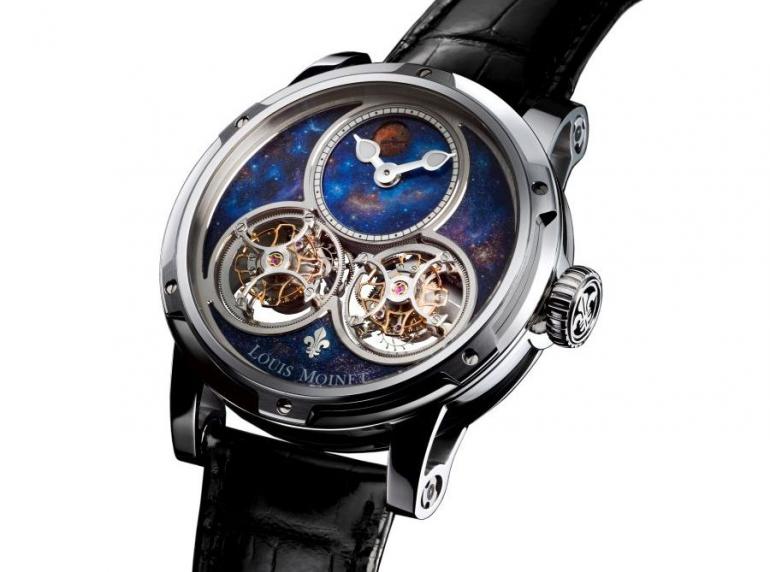 [ Via : Timezone ]