For over a century watch maker Schwarz Etienne has offered a stream of evolving timepieces that have steadily matured in both complexity and design. Started up in 1902 by Olga Etienne and Paul Arthur Schwarz the business was created in the Swiss city of La Chaux-de-Fonds where it continues to thrive. The brand may have been born as a manufacturer of mechanical movements (they supplied movements to other major brands like Chanel, Dunhill, Mauboussin and Caran d'Ache), but by 1985, the company had dedicated itself to creating exquisite timepieces that showed off the brand's creativity, innovation and know-how. Today the brand has cemented its status as a respected watchmaker in the world of horology.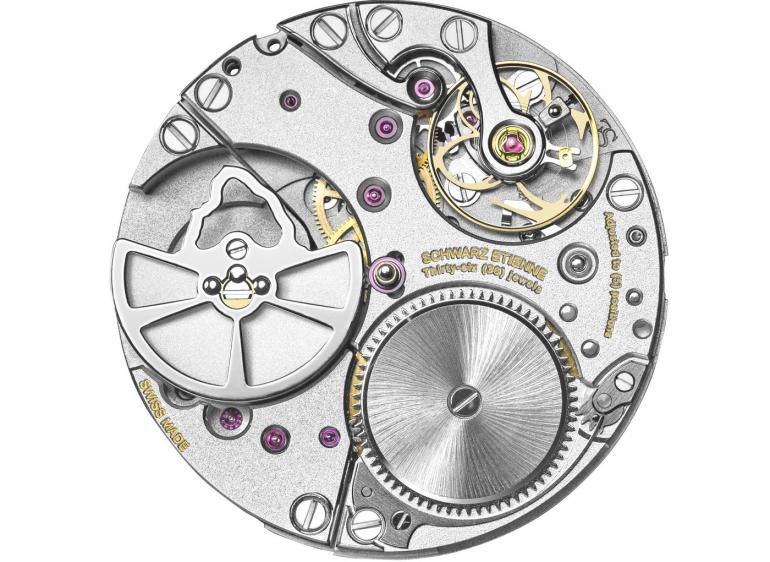 Last year, Schwarz Etienne debuted a watch with a rather unusual source of inspiration: the Roswell Incident. On the night of July 2nd 1947 a number of people saw an UFO coming from the sky and arriving close to Roswell (New Mexico, USA). Since then conspiracy theories that the US Government has kept this information secret, and recovered the alien's UFO in the mythic zone 51 have been abundant, making 'Roswell' the world's most famous ''UFO'' event. We can't separate fact from fiction, but we can spill details about Schwarz Etienne's gorgeous watches! The brand's Roswell collection expands this year with the all new Voyage watch.


This watch is equipped with the Irreversible Schwarz Etienne calibre movement which allows subtle mechanical details including the decentred micro-rotor at 9 o'clock, small seconds offset at 11 o'clock, the escapement and the balance bridge to be visible. The movement's off-center micro rotor is an unusual complication that requires a highly complex development process and gives an enhanced view of the mechanism. The balance is a personalised and laser-cut to mimic the profile of the famous Swiss Matterhorn's distinctive north face. The centre of the balance features the initials of the manufacture: SE.
The Matterhorn has also been incorporated in another creative form into this watch. Within a hermetically sealed capsule in the watch is a fragment of the most emblematic of Swiss mountains. It is difficult to integrate a piece of rock cut in layers of 1,5mm into a watch, but Schwarz Etienne's Roswell Voyage does just that, holding in its heart a piece of the land it was born in, like a precious secret. You can see this little detail in the back of the watch where it lies against a blue background with a tiny moon illuminating the scene.
The front of the watch is equally captivating with a black dial featuring rhodium-plated Roman-numeral indices, which are enhanced by a sunray pattern moving outwards from the small second at 11 o'clock to fully cover the dial. This dial is contained in a 45 mm steel case with an anti-reflective sapphire. The watch is completed by a black alligator strap.
The watch ventures into UFO territory with its dramatic presentation box which has been designed to resemble the flying saucers that we all associate with the unknown world of alien life. Made from brushed steel, this box looks like a prop from an actual sci-fi film and is just begging to be displayed. Whether you believe in the Roswell incident or not, there's no denying that Schwarz Etienne's take on the incident is super stylish and probably far cooler than any other presentation box you've come across. This is an avant-garde gift that any sci-fi fan worth their salt will fall in love with!
To learn more about Scwarz Etienne and their Roswell watches, visit their website: http://se-roswell.com
Note – We have partnered with the brand for this post but the opinions expressed herewith are our own.