The urban oasis of Dubai is a playground to any number of millionaires, both from Middle Eastern nations as well as from around the world. And these modern kings want to live in palaces that suit their extravagant lifestyles; enter Dubai's stunning underwater homes.



Called the Floating Seahorse Villas, these aquatic palaces located in the World Islands were revealed last year, but this year's fabulous upgrades have earned them a stunning £2.5 million price tag.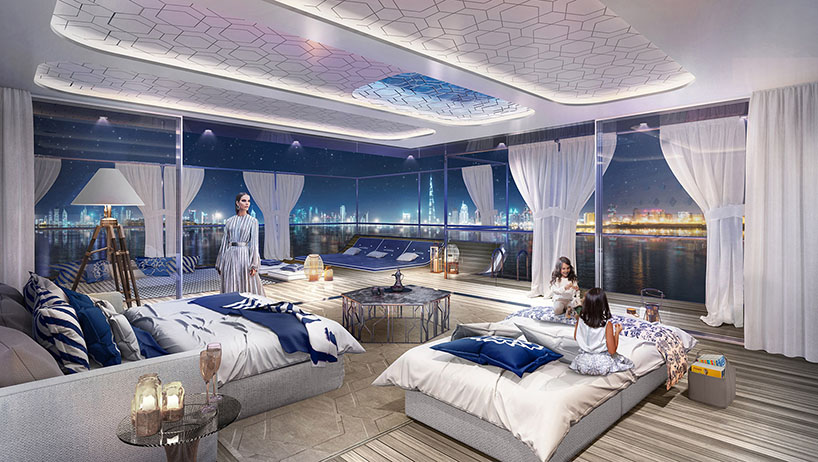 One level of the 4000 sq. ft. mansion is submerged underwater allowing residents to view a stunning coral garden.


The home will have three levels and four sleeping areas. But forget inviting the family, this is a party house begging to host the rager of your teenage dreams.


Speaking of parties, did we mention the magnificent deck? It's just begging for some music and an outdoor bar.


The underwater master bedroom and entertainment room is about 861 sq. ft. while the coral garden will exceed 600 sq. ft.


The houses are part of an archipelago called The World which is to be anchored 2.5 miles off the coast, close enough to provide views of the glittering city. Supposedly, the archipelago will be constructed in the shape of a world map.


Six of these islands comprise the Heart of Europe project, which aims to create a luxury tourist resort inspired by popular European nations.


The floating houses themselves seem almost too good to be true! From the representational images, they appear to be customizable spaces that can easily be transformed from party palaces to serene getaways.
The project will not be complete until next year, but three of the initial floating homes have already sold. No doubt these new additions even with higher price tag will be quickly bought up. But with 125 of these floating villas being constructed, the project gives all Dubai lovers something to look forward to next year.
[Via:Metro]