DiCaprio and Maguire have a long-time friendship that extends nearly four decades, with the two meeting in their childhood and going on to land huge roles on Titanic and Spider-Man, respectively They've kept their bromance tight, from starring in The Great Gatsby together and heading to events with LeBron James, to partying and hanging out with models like Neelam Gill and Rose Bertram Not every friendship in Hollywood was built to last, but Leonardo DiCaprio and Tobey Maguire have held on firmly to their tight "bromance" since they were kids.



Joining other tight male celebrity friends like Matt Damon and Ben Affleck, these former child actors have proved that fame and fortune don't come in the way of a real, authentic friendship – something that may be hard to come by in the notoriously cutthroat world of showbiz.
This summer, The Great Gatsby actors have been making headlines for their numerous outings. They were spotted at an event in Hotel Plaza Athénée with LeBron James. They've been partying on yachts in Ibiza. In fact, they even have matching necklaces with wolf symbols. Both single, according to reports, with Maguire's divorce being finalised in 2020, it seems like they've been enjoying the bachelor life together.
Here's what we know about the strong bromance between these two household names.

How did Leonardo DiCaprio and Tobey Maguire meet?
According to People, the pair first met in the 1980s while they were auditioning for the same roles. "I literally jumped out of the car," DiCaprio told Esquire in 2014. "I was like, 'Tobey! Tobey! Hey! Hey!' And he was like, 'Oh, yeah – I know you. You're … that guy.' But I just made him my pal. When I want someone to be my friend, I just make them my friend."

An immediate friendship
It wasn't just acting that the kids had in common. According to Distractify, Maguire and DiCaprio share a much deeper connection, especially when it comes to family. Both raised by single mothers, these actors have opened up in interviews about how they overcame their childhood struggles.

Maguire told People in 2007 that his parents split when he was three years old and bounced between family members, resulting in "difficult, emotional and scary times as a kid". Meanwhile, DiCaprio's mum and dad split when he was one and he grew up in a "hardcore neighbourhood", claiming he was robbed when he was around five years old, according to his interview with CBS Sunday Morning.

They were rumoured to be part of the ill-named "P*ssy Posse"
Rumour has it that in the 90s, DiCaprio and Maguire were part of an ill-named band of brothers called the "P*ssy Posse". The group reportedly also included Lukas Haas, Harmony Korine, David Blaine, Jay Ferguson, Josh Miller, Ethan Suplee, Kevin Connolly, Scott Bloom, Justin Herwick and occasionally Sara Gilbert, per The Daily Beast. They were known to dominate New York's club scene.
It's unclear whether this pack really existed and what sort of antics they got up to exactly, but word is, now it's been renamed the "Wolf Pack", per Ranker.

Starring in films together
Either way, the boys have come a long way since the 90s, and have grown up to enjoy fame and success with a more low-key approach.
They've also starred in a string of films together, including Don's Plum (2001), This Boy's Life (1993) and The Great Gatsby (2013).

DiCaprio's bond with Maguire's kids
Maguire shares two teen kids, Ruby and Otis, with his ex-wife Jennifer Meyer. While DiCaprio doesn't have any kids of his own, apparently he's a natural with his bestie's children, per Popsugar. The same source stated that the Titanic actor would join family events like going to the beach and grabbing brunch, and would make a "great dad".
What's more, Maguire named DiCaprio as the godfather to his daughter Ruby in 2006, per The Things.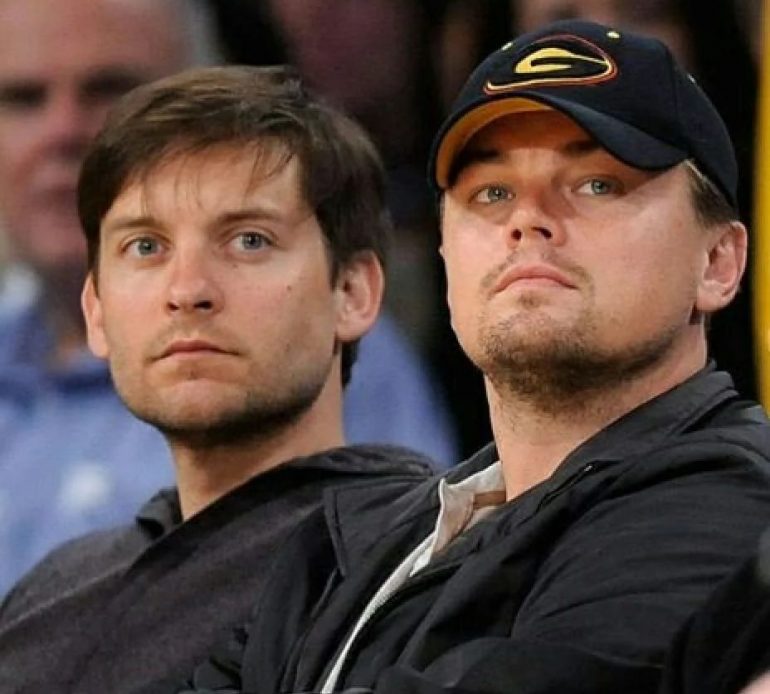 Partying, yachts and hanging out with models
Now, nearly four decades later, these long-time pals, both single, are enjoying the high life together – and that includes plenty of five-star holidays, yachts, hang-outs with models and A-list parties.


Last year, they went on holiday together in St Tropez. This year, they've been partying a lot more, from a night out at Paris' Hôtel Costes, yacht trips in the French Riviera with Indian-British model Neelam Gill and Ibiza with Dutch model Imaan Hammam, to NYC strolls with Ukrainian model and activist Alina Baikova. In August, they were spotted at an after-party in Paris with Belgian model Rose Bertram, then headed to Spain for another yacht jaunt with Love Island star Arabella Chi.
There's no doubt that the Oscar-winning DiCaprio has a thing for dating models, but will Maguire follow suit? Only time will tell, but given the Spider-Man actor's dating history, which includes A-listers like co-star Kirsten Dunst, Nicole Richie, Rashida Jones, Demi Moore and Christina Aguilera, he seems to be more focused on finding romance with actresses and singers.
Note: This story was originally published on SCMP and has been republished on this website.