Behind every successful man is a woman. In the case of Ukrainian president Volodymyr Zelenskyy, that woman is his wife, Olena Zelenska. Every world citizen will agree, Olena has proved to be unwavering support for her man and his country at a trying time. We already know that she is a woman of substance and steel but what are the other things that make Olena the woman she is today? From her early days as a comedy writer to a reluctant president's wife, and a symbol of willful patriotism, we explore the aspects of the Uranian First Lady's life:



Early life:
Olena Zelenska, the wife of Ukraine President Volodymyr Zelensky and the First Lady of Ukraine, has been a country girl all her life. She was born in 1978 in Kryvyi Rih and spent her formative years here too. After studying architecture, Zelenska decided to switch her vocation to writing. Zelenska's early achievements include writing for the comedy troupe that escalated the now-president Zelensky to fame as a spoof politician (ironically, he played the Ukrainian President) in Servant of the People. Olena is one of the co-founders of a production house called Studio Kvartal 95.

Fascinatingly, their paths crossed earlier in high school, but it was at university that Olena finally met Zelensky. Volodymyr Zelensky was studying law at the time while aspiring to be a successful comedian. Talk about fate!

Becoming Mrs. Volodymyr Zelensky:
Olena Zelenska met Volodymyr Zelensky at Kryvyi Rih National University. Ukraine's power couple has a 17-year-old daughter, Oleksandra, and a 7-year-old son Kyrylo. Despite studying in the same school and having mutual friends, their paths never crossed. After befriending each other in university the couple dated for precisely eight years before tying the knot in 2003.

The couple started their matrimonial life in Kyiv. About accepting her husband's political debut, the First Lady of Ukraine confessed, "Frankly speaking, I aggressively opposed the start of this project," she once told reporters. "Because this is a very difficult move; it's not even a project, it's another direction in life."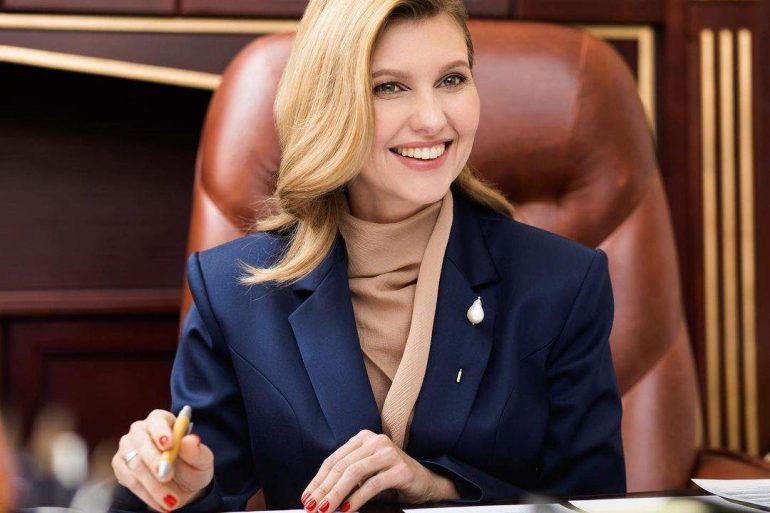 A firm First Lady of Ukraine:
The woman who was aggressively against the idea of her comedian husband joining politics is a force to reckon with in today's war-torn Ukraine. While Zelensky was branded Putin's "number one" target, his wife was 'target number two.' Zelenska is an epitome of grace and strength so much it makes it incomprehensible the woman "aggressively opposed" her husband's plans to join politics.

This woman of steel decided not to flee the country with her family. Instead, her indomitable spirit shines through her inspiring Instagram presence, where despite the bounty on her head, she fearlessly takes to social media daily to spread hope and broadcast her humanitarian efforts across the capital. Zelenska once shared with Vogue Ukraine, "I am a non-public person. But the new realities [being First Lady] require their own rules, and I'm trying to comply with them."

She continued, "I prefer staying backstage. My husband is always at the forefront, while I feel more comfortable in the shade. I am not the life of the party, I do not like to tell jokes. It's not in my character. But I found reasons for myself in favor of publicity. One of them is the opportunity to attract people's attention to important social issues."

She is fashionable too:
The gorgeous first lady is garnering world attention for her duties and how she looks while pulling off these tasks. Olena has created a signature style with power suits in vibrant colors while championing small local brands and Ukrainian designers.

The fashion icon loves to credit the budding designers of her country, and her favorites include Ivan Frolov, ELENAREVA, Vita Kin, and Lake Studio." I am pleased when they ask me in New York or Paris who is the designer of my outfit. And they do ask me," she told Vogue. "And it wouldn't be as exciting to name a major western brand, which they already know there, but how nice it is to promote Ukrainian designers to the world."

Matters close to Olena's heart:
The 44-year-old mother of two is an ardent advocate of women's rights. She doesn't simply talk the talk but has also extensively canvassed against domestic violence and made impactful, policy-changing speeches on gender equality. In addition to women's issues, Zelenska focuses a lot of her attention on children. From adoption to reformed nutrition in Ukraine's schools, she leaves no stone unturned for the benefit of little Ukrainians. Olena spent years repairing the quality and variety of food in the country's schools inspired by Japanese schools. Her campaigning led to the country orienting new legislation on child nutrition.

Another matter close to her heart is the promotion of the Ukrainian language. She shared a post regarding her trip to the United States to further this initiative. She wrote, 'Our visit to the United States began with… Ukraine! More precisely, from the center of Ukrainian traditions, culture, and art in the United States – the Ukrainian Institute of America @ukrainianinstitute, where they met with leaders of the Ukrainian community in the United States. Thank you for the warm welcome and sincere communication.' Olena Zelenska actively supports and promotes Ukrainian Paralympic athletes as well.

Dealing with the Russian invasion:
During this shattering moment of turmoil in Ukraine, the President and First Lady are at the center stage dealing with the crisis with utmost grace and composure. Even without any assigned official duties, the First Lady gives the country her all. She shared snippets into the destruction caused by the Russian forces, the plight of children, and the ravages of war. The writer in her came alive as she articulated her sentiments in a passionate and searing open letter to the media, titled "I Testify…" She is also broadcasting the support Ukrain is getting from the Royal family members to the Queen herself. Olena took to Instagram to thank the First Lady of France – Brigitte Macron, for her supportive words and her friendly actions.