In 1994, the American sitcom Friends debuted on our screens and the world of television comedy would never be quite the same again. What started as a shot in the dark for Jennifer Aniston, Courteney Cox, Lisa Kudrow, David Schwimmer, Matt LeBlanc and Matthew Perry, ended 10 seasons later in global superstardom, TV history and mega-wealth for all six of the pals.


Yes, sure, some of the stars made more money than the others (here's looking at you, Jen), but the entire cast continues to benefit from their time on the show, receiving around US$20 million between them in royalties every year. According to Cosmopolitan, the syndication rights earn the show around US$1 billion a year – and the cast get a 2 per cent cut of this.

Five fast Friends facts
1. In season one each cast member earned a cool US$22,500 per episode
2. In season two things got complicated – and unequal – with cast members earning between US$20,000 and US$40,000 each per episode
3. In season three they made history after negotiating their salaries as a team and agreeing on US$75,000 each per episode

4. Things rose steadily from here, and by season seven and eight they were each getting US$750,000 per episode
5. In season nine the sextet again made history, earning a whopping US$1 million per episode – the highest ever for actors in a sitcom at the time
Of course, they've all had plenty of opportunities to make even more money since Friends went off the air in 2004. So who has been raking in the big bucks over the years? Here are the Friends stars' estimated net worths in 2021.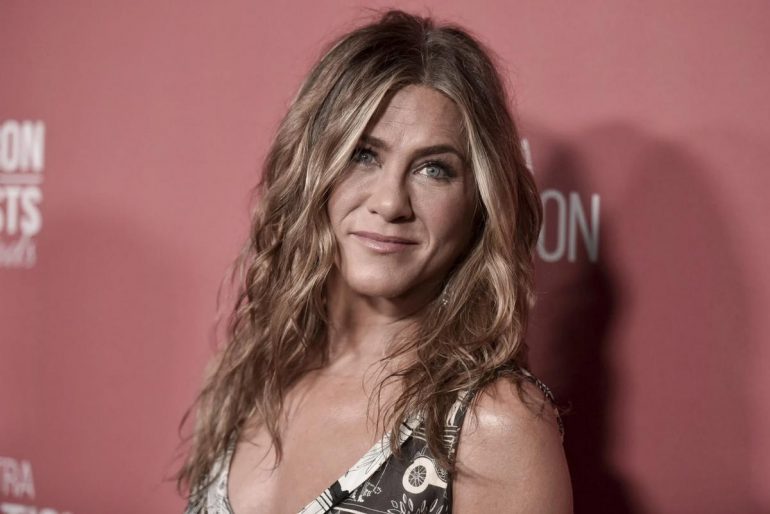 Jennifer Aniston: US$300 million
Friends' breakout Hollywood star is undoubtedly Jennifer Aniston – or Rachel as many of her fans still call her. According to The Tab, Aniston is estimated to have made around US$90 million over the 10-year show period, similar to her co-stars. But as the most famous and successful cast member, Aniston has gone on to star in more than 40 movies, including big hits like Bruce Almighty, Marley & Me and The Break-Up, commanding an A-lister's salary along the way.
Her current gig on The Morning Show earns her US$2 million an episode, adding to her impressive bank account (the same as co-star Reese Witherspoon). Of course, it's also her endorsement deals that bring home the dosh, with her name being linked to big brands like Diet Coke, Microsoft, Emirates airlines and L'Oréal. She has also released six fragrances through Elizabeth Arden and owns her own production company, which has been behind several films including Cake, The Switch and Dumplin'.

Courtney Cox: US$150 million
They were besties on the show and in real life remain the closest of pals years later. Coming in as the second-wealthiest star out of the Friends cast, Cox added to her earnings with her role on Cougar Town, which earned her around US$275,000 per episode, bringing home around US$6 million for that gig alone, which ran between 2009-2015.
In 2013, Cox also signed a lucrative deal when she became the spokesperson for Pantene. She also added to her net worth after selling some property for a nifty profit. In 2020, she sold her condo in West Hollywood for US$2.9 million. She also has a production company with ex-husband David Arquette, Coquette Productions. The biggest hit for the company was Cougar Town, which added some serious digits to their bank accounts.

Matthew Perry: US$120 million
Most people will probably be surprised to see Matthew Perry coming in at No 3. But just like Chandler, Perry knows how to make money. According to The Tab, his property investments have seen him reaping big profits, including banking US$15 million for a penthouse he sold in Hollywood. Perry's wealth status comes despite his well-documented substance abuse problems. He has openly spoken about his battles, telling the BBC in an interview that he doesn't remember much of his role in Friends between seasons three and six.

Lisa Kudrow: US$90 million
Like Aniston, Kudrow continued with her path in the TV and movie industry and has numerous credits under her belt, including blockbusters The Other Woman, Booksmart and The Boss Baby.

Her TV success has been remarkable and Kudrow has become a common face on notable shows including Grace and Frankie, Unbreakable Kimmy Schmidt, The Good Place and Space Force. Kudrow's online show, Web Therapy, also received critical acclaim. Like Perry, Kudrow has also made some nifty profits through her property investments. She sold her Utah mansion in 2017 for US$3.6 million.

David Schwimmer: US$85 million
Schwimmer's acting career may not be on par with Kudrow or Aniston's, but he has earned his keep. He was the voice of Melman, the giraffe in Madagascar and he played Robert Kardashian in American Crime Story.

He also co-owns a theatre production company, Lookingglass, which has produced more than 60 plays. On Instagram, Schwimmer had advocated for "opening up the industry" after theatre houses in the US were shut down because of the coronavirus pandemic.

Matt LeBlanc: US$80 million
Joey may have been the hottie of the show, but in real life LeBlanc's net worth comes in at the bottom of the Friends pile (according to The Tab, at least). After Friends ended, he had a short-lived stint in a spin-off show, Joey. It only lasted two seasons.

In 2016 he landed a role in Man with a Plan, which reportedly earned him US$200,000 an episode. The show lasted four seasons. Cosmopolitan reports he also bagged a cool US$2 million for the four seasons of Top Gear he hosted, before leaving the hit motoring show in 2019.
Note: This story was originally published on SCMP and has been republished on this website.